Georges Fleury
C
opyright © 2018 - Association des Sauveteurs d'Aviateurs Alliés - All rights reserved -
In French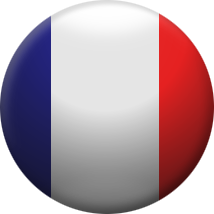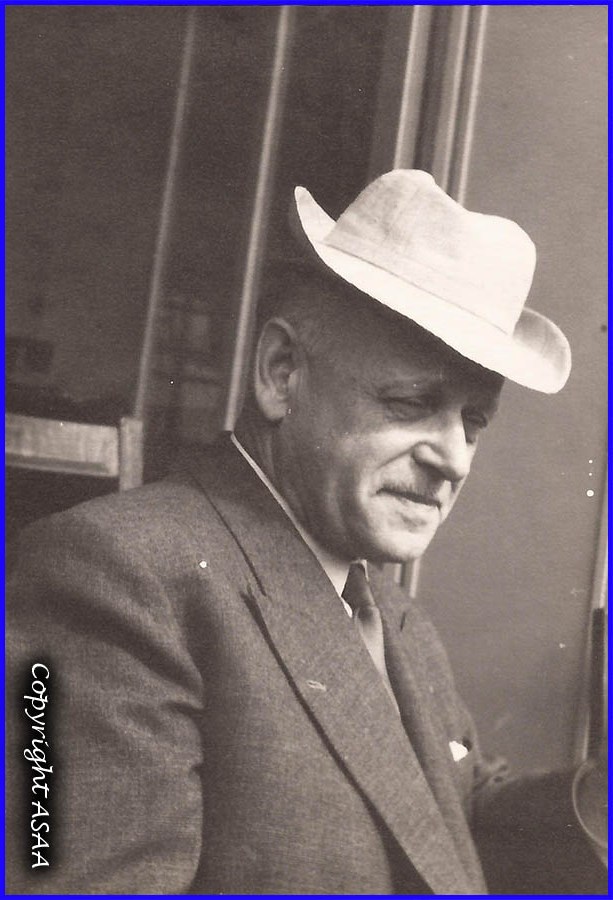 Georges Fleury
Georges Fleury was born on the 8th January 1890 in Caen (Calvados). Demobilised in 1919 having fought during the First World War, he settled in Remecourt (Oise). He took over the small farm of his parents in law before having a career in Administration as a registrar of the Justice of the Peace. He was elected mayor of Remecourt in 1920, where he remained until 1944.
On the 10th May 1940 the German armies flooded into France. It was a rout. Within a few weeks France was defeated and the armistice was signed.
On the 18th June, in his Appeal transmitted by the BBC, General de Gaulle called for the continuation of the struggle. Georges Fleury, his wife Rachel, his children France-Raphaelle, Alain and Annette refused the defeat and immediately got into the clandestine battle against the occupier.
From then on Georges Fleury began to recruit, as the months went by, men and women of all sorts of social conditions, known for their patriotism in order to negate German interests. He concerned himself with recuperating arms abandoned during the defeat and started a stock of explosives.
In Clermont, clandestine meetings were organised immediately in his home in rue de Mouy. Under the pseudonym of "Carriere", he organised the distribution of handouts and clandestine newspapers, the escape of French prisoners, the making of false papers and envisaged the installation of radio transmitters with the help of the radio Lieutenant of the Navy, Jean Corroyer.
In 1942, with the support of the doctors in the sector, Georges Fleury set about saving young Frenchmen from the Service de Travail Obligatoire (Compulsory Work Service). He organised placements for defectors, ensured their supplies and distributed ration tickets.
At the end of 1942 two reserve officers, Marcel Sailly and Roland Delnef of the "Secret Army" group, professors at the Ecole Normale Professionelle of Creil, contacted Georges Fleury. They asked him to work with them and to be one of the chiefs of the Resistance movement.
From April 1943, Georges Fleury made the first radio contacts with London, thanks to radio operators who came from England. Parachute drops of arms and material were picked up on landing grounds which he had organised in the region. Night landings of small aircraft which came from England permitted the rapid exchange of personnel and important documents.
Throughout 1943, armed groups were made up in numerous villages around Clermont. Sabotage operations on railway equipment were carried out notably in Clermont, Liancourt, Mouy, Saint-Just-en-Chaussee and Estrees-Saint-Denis. Sabotage against underground telephonic networks took place with the concurrence of sympathisers of the Ponts-et-Chaussees (Civil engineering) and the Postal Administration. Established contacts with gendarmes made it possible to anticipate acts of repression of the German police.
The aerial Allied offensive on Germany and the occupied territories intensified day and night. The departement of the Oise had daily immense waves of bombers flying over it. The antiaircraft defences and German fighters replied to the attacks. Airmen fell from the sky in our region. Georges Fleury and his family housed more than fifteen Allied airmen who had to be fed, clothed and supplied with false papers.
Alain Fleury and his sister France-Raphaelle remember a few stories :
Alain Fleury :
"...We tried to exaggerate things and made jokes. Among the airmen certain were capable of getting by in French and one of them wanted to say something nice to my mother. Comrades who passed by from time to time taught him a phrase and one day he said 'Chere Madame, I wanted to tell you that we stuff ourselves well in this old barrack! Everyone started laughing..."
France-Raphaelle Fleury :
"..One day my mother took a big jar of blackcurrant jelly from the cupboard and put it on the table. One of the airmen, who we had nicknamed 'Big baby' took the whole pot and tipped it out onto his plate. In two or three movements the whole great jar of blackcurrant jelly had disappeared and everyone started to laugh..."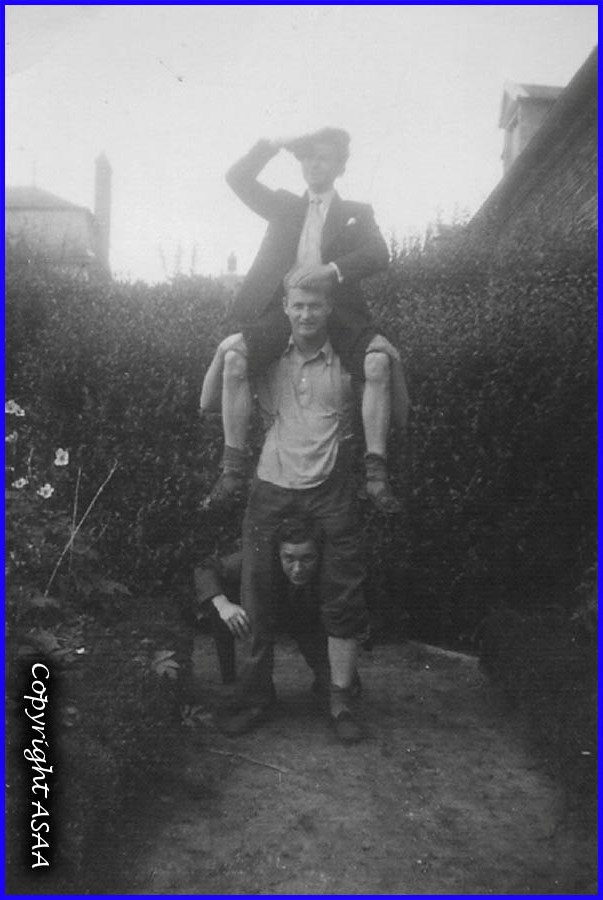 "Big baby", Hobart C. Trigg carrying Jean Bourdon, a friend of the Fleury family, on his shoulders.
On the night of 29 to 30 August 1944, Jean Bourdon, member of the Resistance of Saint Quentin
was murdered by an SS unit in Urvillers (Aisne) after being horribly mutilated.
A certain number of these airmen came from or were sent to the "Alsace" network led and organised by Gilbert Thibault at Auneuil. Sometimes Georges Fleury's children took it upon themselves to take them to Creil or Paris. Then arranged contacts took the escapers on dangerous paths towards Freedom, via Spain or Brittany before they could get back to England.
End of September 1943 at the Fleury family - At the forefront : Annette Fleury and Hobart C. Trigg (seated)
In the background from l. to r. :

Jean Bourdon, Edward M. Daly, France-Raphaëlle Fleury, Alain Fleury,
Trigg, Daly, Bormuth and McConnaha were American airmen, members of the Flying Fortress
shot down on 15 September 1943 near Montiers (Oise).
*Wendell K. McConnaha lost his life in December 1943 while crossing the Pyrenees.
In February 1944, Georges Fleury met Commandant Fromonot who was organising the Forces Francaises de l'Interieur in the departement. The following month 650 men were got together and armed in about twenty groups around Clermont. Georges Fleury took leadership of the Centre-Oise group of the O.C.M.
On the 6th June 1944, the Allied armies landed on the beaches of Normandy. The so-long-awaited Liberation was but weeks away. The German army began to beat the retreat but opposition became worse.
On the 6th August 1944 Jean Corroyer, Georges Fleury's deputy, was murdered in front of his house by Miliciens in the pay of the Gestapo. His wife Leonie and his son Guy were arrested. They were to die in deportation. That very day the Fleury family escaped by the skin of their teeth from being arrested and went to hide with friends. During this time Roger Folliot took it upon himself to hide compromising papers which were to be found in rue de Mouy. Georges Fleury continued in spite of everything to command the sector, thanks to officers parachuted in, radio operators and liaison agents and took part in various acts of sabotage against the enemy.
On the 18th August 1944, at the Vieux-Moulin station and in the company of an agent of the Compiegne sector, Georges Fleury destroyed two trains of wagons which were intended to transport to Germany internees of the camp at Royallieu.
The Liberation was approaching. In the week of the 25th to 31st of August 1944, he got together three highly armed groups under his command, on the order of Colonel Monturat, the departmental chief.
In the night of the 31st of August, he attacked a German battery at Saint-Aubin-sous-Erquery. The Germans managed to flee in the darkness, leaving four prisoners, 300 horses and a combat train.
On the 1st of September, after four years of servitude, the town of Clermont was liberated by the 79th American Infantry Division.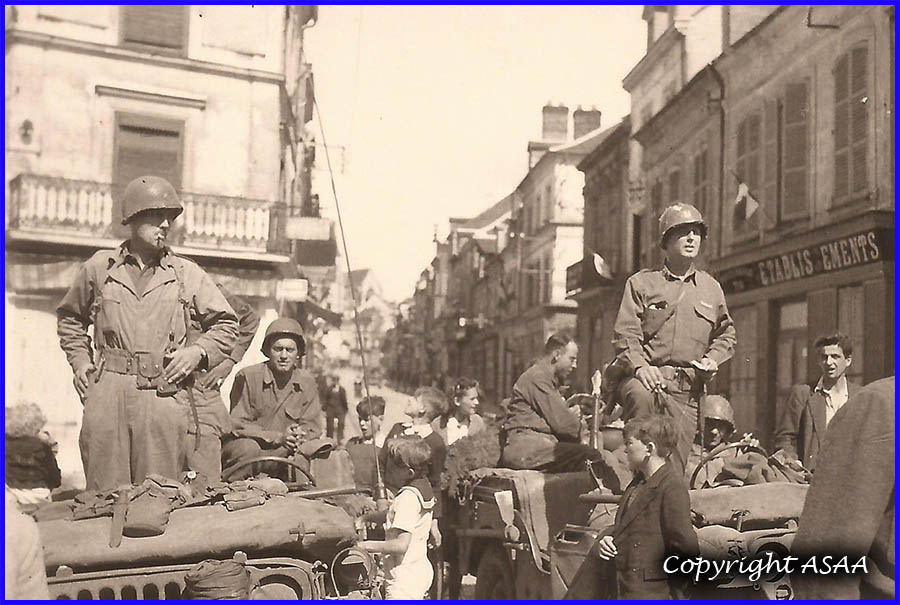 Clermont, 1st of September 1944 - G.I.'s in the Descuignieres Square
Georges Fleury was appointed sub-prefect of Clermont at the Liberation, a function which he occupied until January 1948 before becoming Secretary General of the Prefecture of Beauvais until 1954. He was then appointed sous-prefet of Argentan until 1957.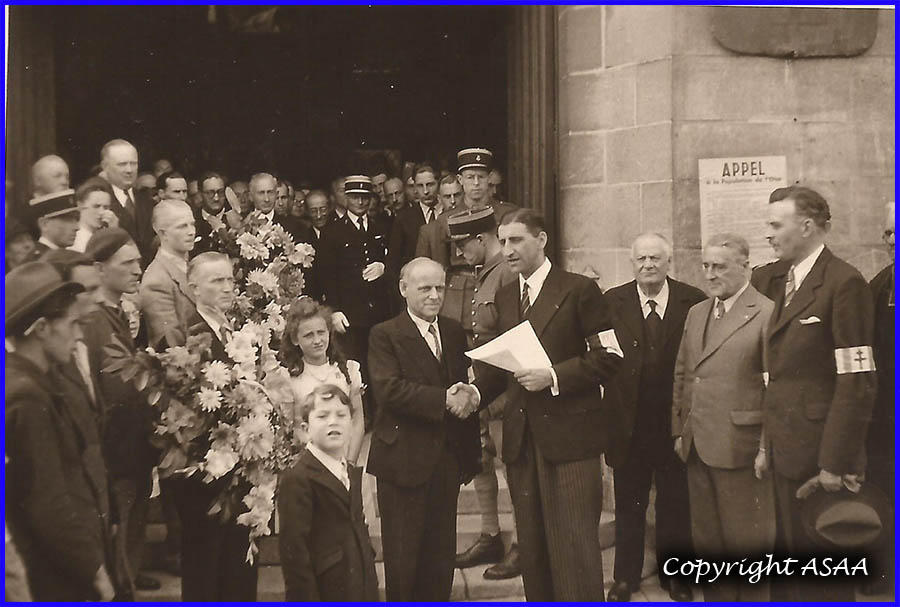 3 September 1944 - The Republic is reinstated.
Georges Fleury is officially proclaimed sub-prefect of Clermont
by Yves Perony, the new prefect of the Oise.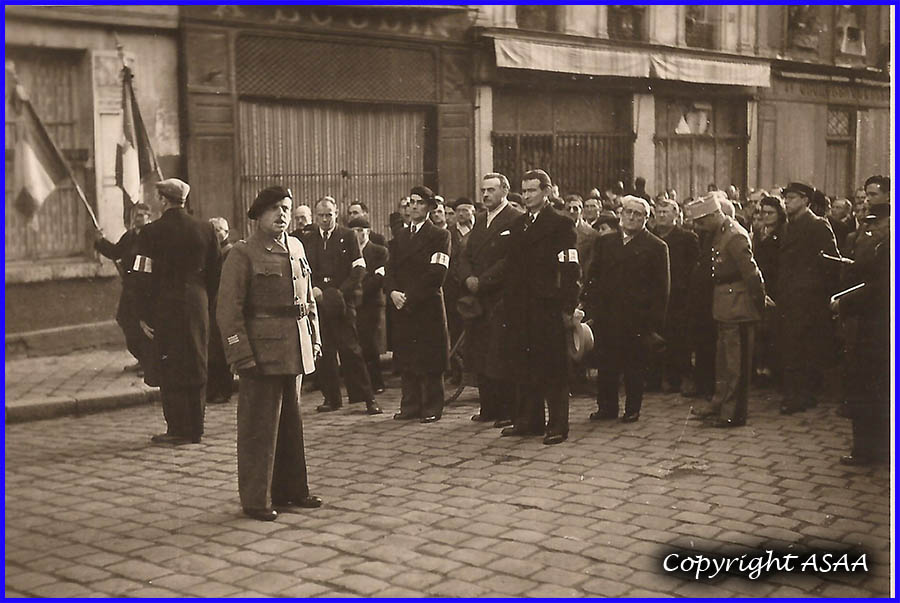 Clermont - 1st November 1944 - Georges Fleury at a ceremony in honour of his deputy Jean Corroyer.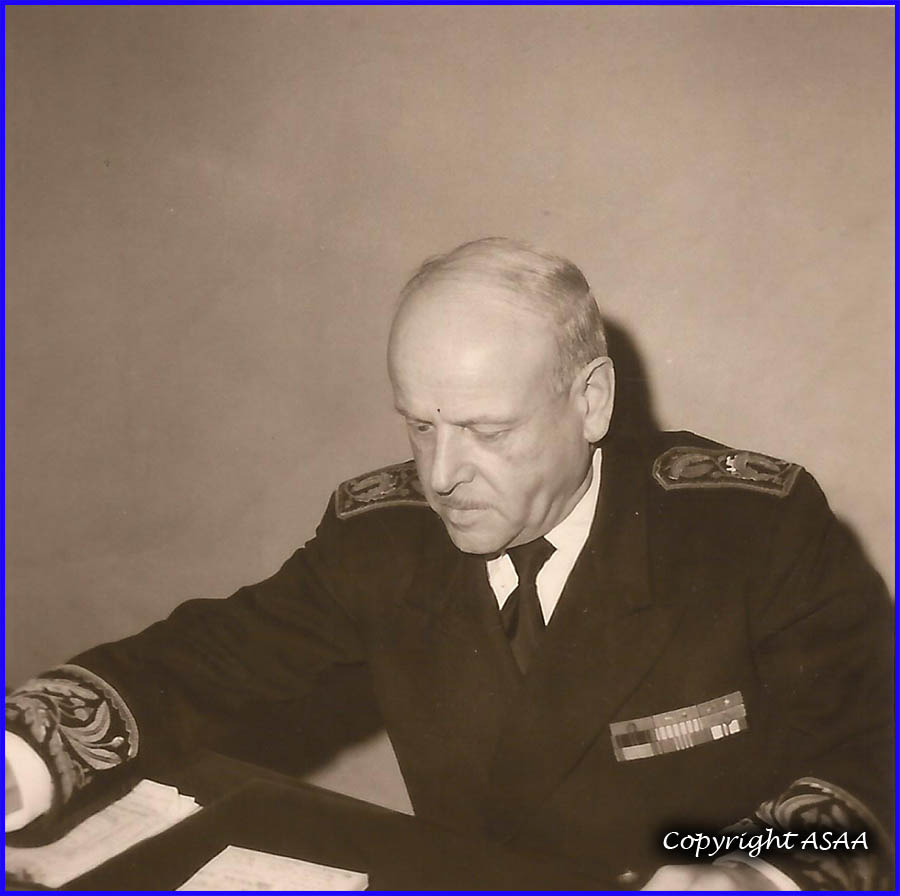 The sub-prefect Georges Fleury.
This man, with great human qualities, was a great figure in the Resistance in the Oise departement and a great servant of the State.
Georges Fleury died in 1959.

Croix de Guerre 1914-1918
Croix de Guerre 1939-1945 with palm
Officer of the Legion of Honour
Medal of the Resistance
Offcier of the Academic Palms
Holder of several Allied distinctions including the Medal of Freedom
Help given to Allied airmen

in Saint-Leu-d'Esserent (Oise)

during the Second World War
Copyright
© 2017

- Association des Sauveteurs d'Aviateurs Alliés - All rights reserved -
En français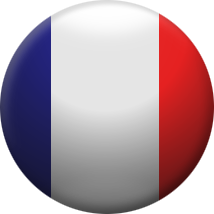 By Jean Philippe Matthieu
During the Second World War, inhabitants of Saint-Leu-d'Esserent brought help to American airmen at the risk of their lives. This help could be "organized" such as that which benefited :
- S/Sgt. Clifford G. Golke and Sgt. Cletus S. Hard, crew members of the Flying Fortress "Lucky Strike", 95th Bomb Group, 334th Bomb Squadron, shot down on 10th April 1944 near Ercuis (Oise).
- 1st Lt. Rex P. Hjelm, pilot of a P-38 "Lightning", 55th Fighter Group, 343rd Fighter Squadron, shot down on 11th June 1944 near Bailleul-le-Soc (Oise).
- 2nd Lt. Edward I. Peterson (co-pilot of the Flying Fortress "Ensign Mary", 379th Bomb Group, 526th Bomb Squadron, shot down on 16th June 1944 near Pontpoint (Oise), who was taken out of Senlis by René Charpentier.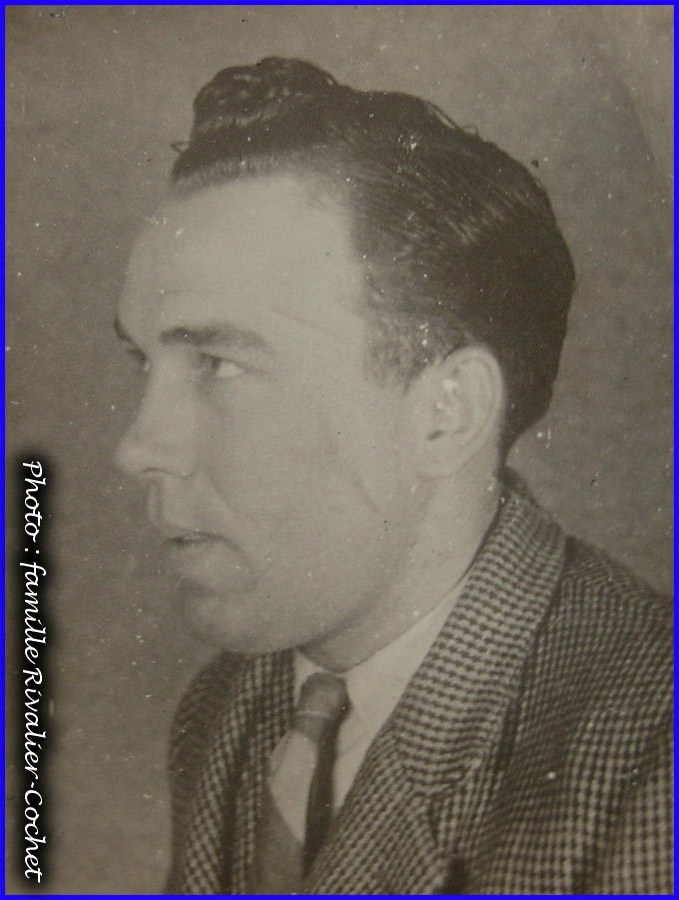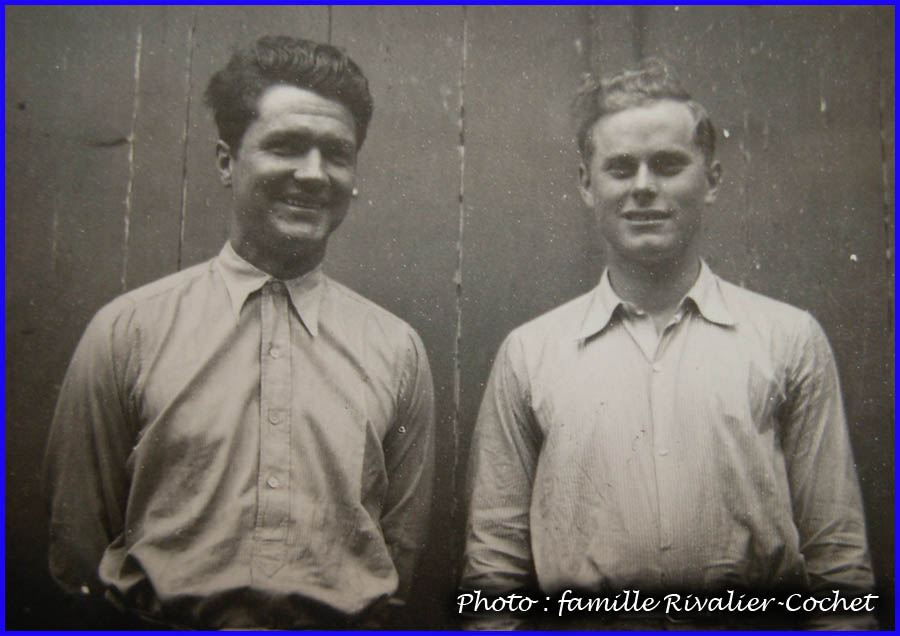 Sgt. Cletus S. HARD 1st Lt. Rex P. HJELM and 2nd Lt. Edward I. PETERSON
He stayed in Saint-Leu-d'Esserent in the company
of S/Sgt. Clifford G.GOLKE in May 1944.
Each airman had a set of three identity photos,
dressed in civilian clothes which made it easier
The assistance was based on Mr. André Cochet who was responsible for transport and who brought back real false identity cards from the Prefecture of Beauvais. These were filled in at Saint-Leu-d'Esserent by Mr Lucien Baudoin, secretary of the town hall. Supplies were provided by Mrs. Marcelle Cochet and Mrs. Charlotte Bachimont (after the Liberation, she was the first woman counsellor of Saint-Leu and then mayor in May 1946). Accommodation was provided by Alice and Marcelle Barbier, who were sisters.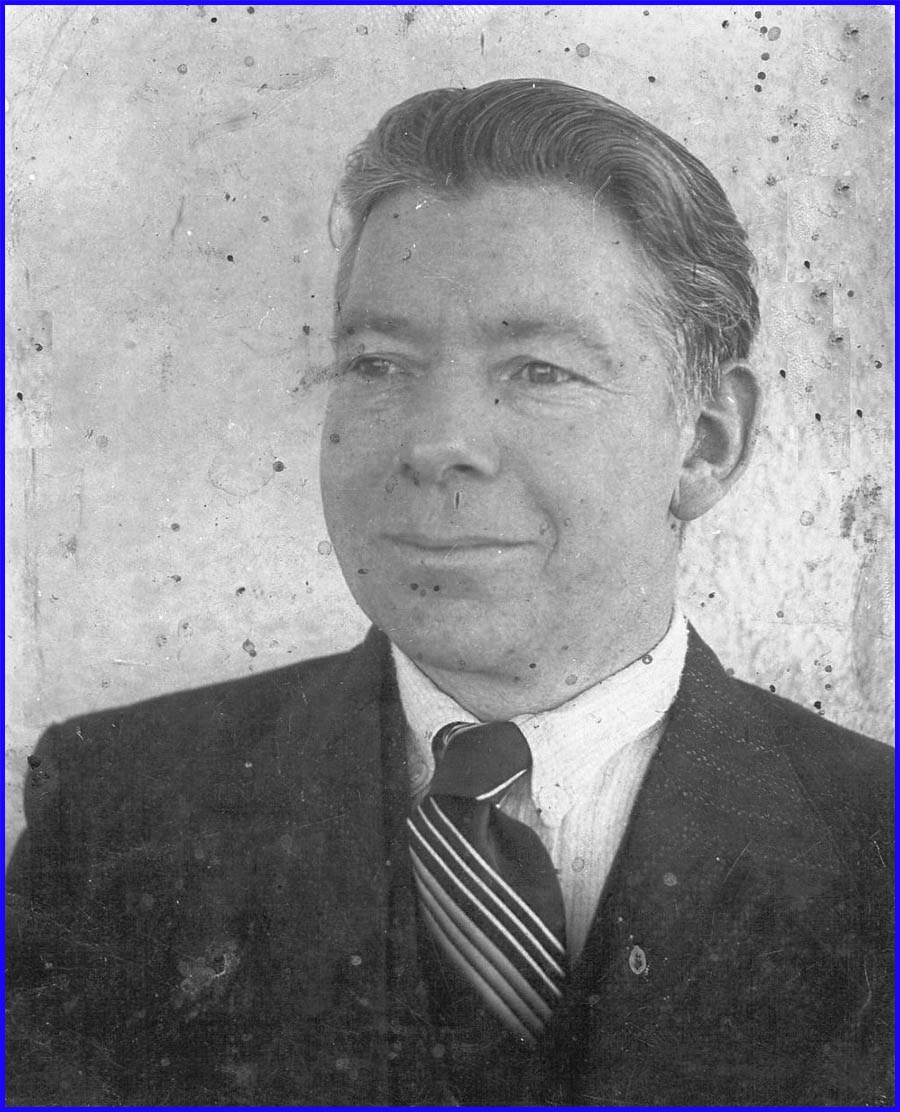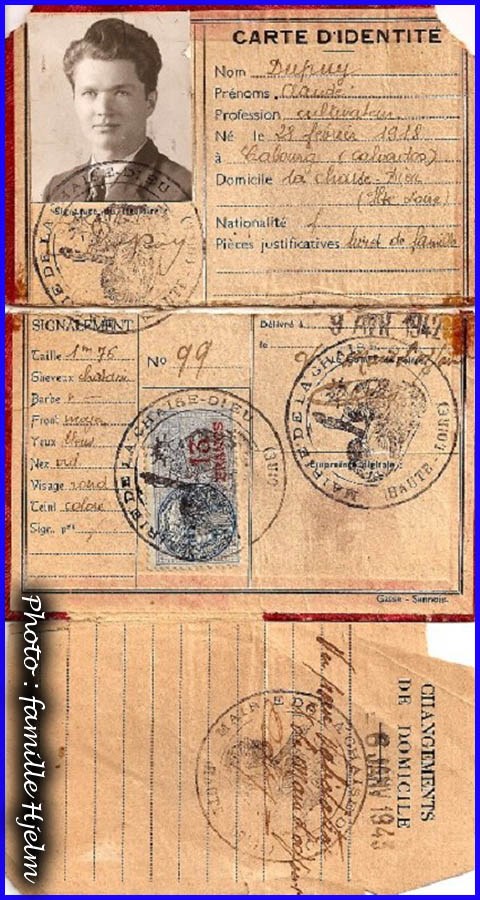 Mr Lucien BAUDOIN False identity card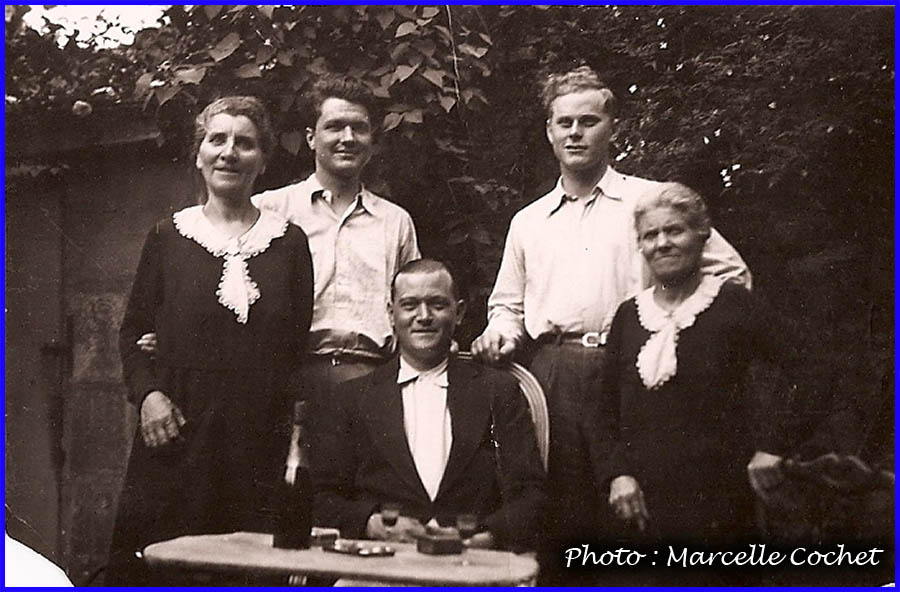 Early July 1944 - Photo taken in the garden of the BARBIER sisters in St-Leu-d'Esserent. (Town hall Square).
From left to right : Marcelle BARBIER, Rex P. HJELM, André COCHET, Edward I. PETERSON and Alice BARBIER.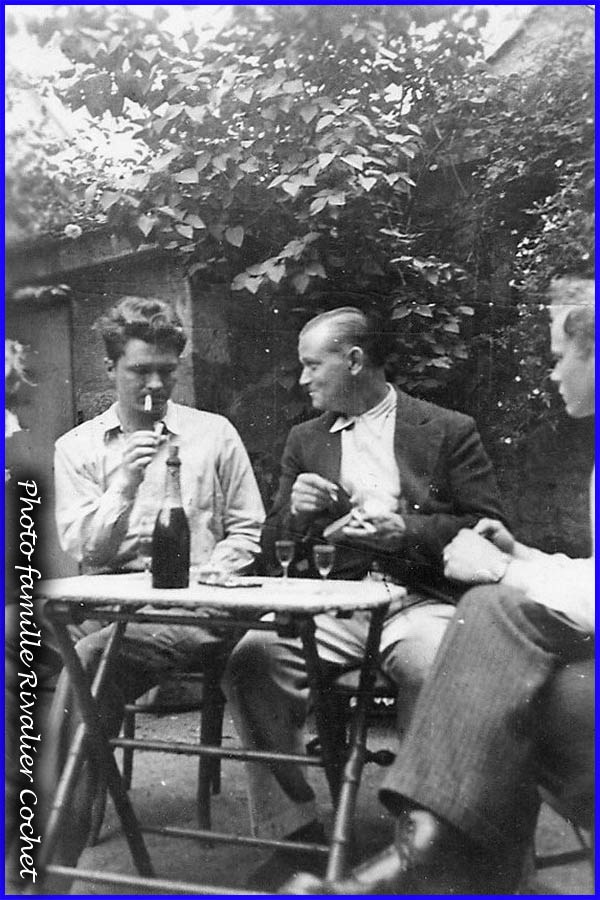 Rex P. HJELM, Andre COCHET and Edward I. PETERSON.
Photo taken with the family "Kodak" camera, by Mrs. Marcelle COCHET.
Sheer luck allowed other inhabitants of Saint-Leu-d'Esserent to bring "spontaneous" help to Allied airmen as was the case for Mr. and Mrs. Henri Lefebvre. Whilst looking for morelle mushrooms they found a parachutist in the woods, hid his parachute (which was later recovered and used to make clothes) and then contacted the priest Chretien who took this unknown airman in charge. Madame Jacqueline Simon, their daughter, a seamstress, re-worked a suit belonging to her husband in order to offer this airman a civilian attire.
These facts are not exhaustive. During this period, other similar cases certainly took place without it being known.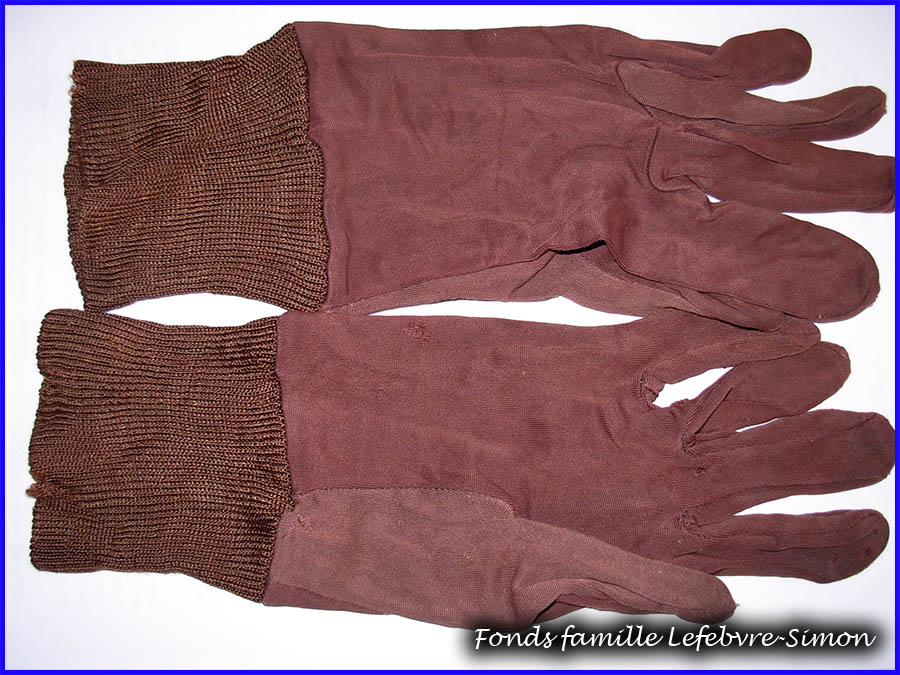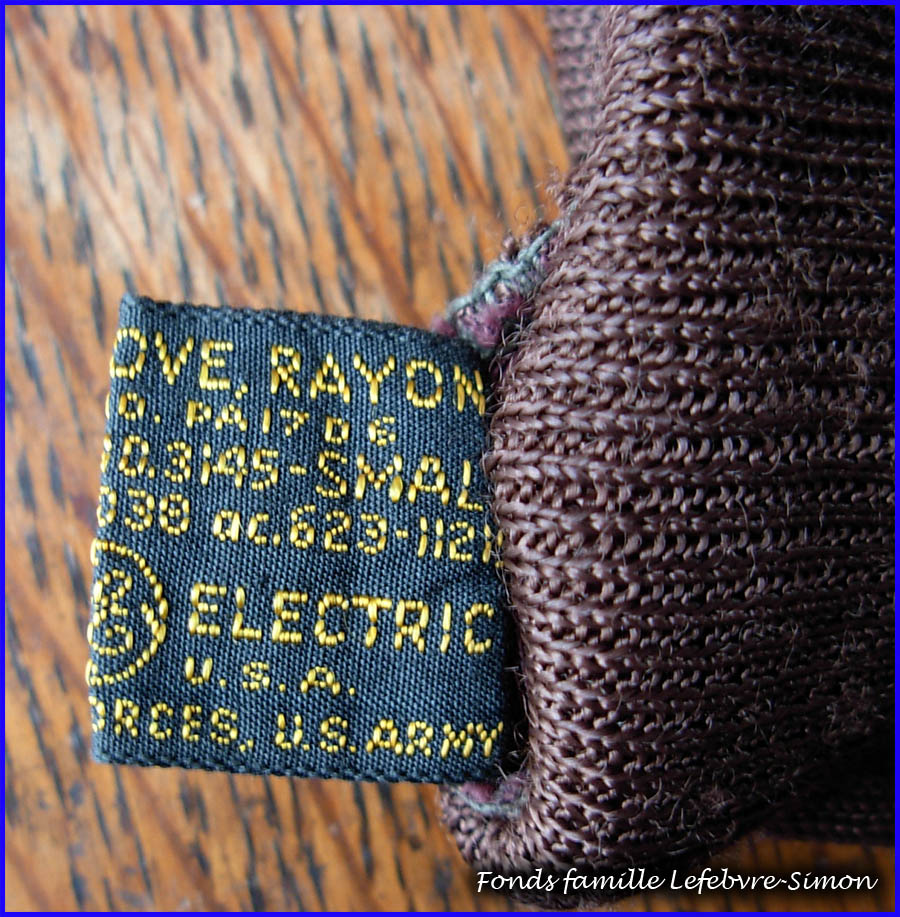 Pair of sub-gloves offered by an unknown American airman to Mr. and Mrs. Henri LEFEBVRE to thank them for their help.
Testimony of Mrs Marcelle Cochet received by Mrs Paulette Formaux in May 1986 :
"Mr. Cochet held an 'Ausweis' which allowed him to circulate for supplies, Marcel Coene and Mr Boulanger, two Resistance officials, came to ask him to take two American airmen to Neuilly-en-Thelle1. The hosts had been denounced2. They were taken to a quarry at Maysel and then taken back to Melle Barbier in Saint-Leu-d'Esserent.
Mr. and Mrs. Cochet, just as Mrs. Bachimont provided food.
The sister of 'Pierro'3 (Roland Jacques of Saint Vaast-les-Mello) took the Americans to the 'Terrain des Aigles'in Chantilly. Then the departure continued by the train to Spain.
Mr. Picot, Controller of the Direct Contributions of Chantilly, arranged the departures.
Mr. Cochet brought back identification cards from the Prefecture and Mr. Baudoin, Secretary of the Town Hall, filled them in.
On one of his trips to Beauvais, he was given the task of warning the notary of Auneuil (Gilbert Thibault), who was threatened by a denunciation. M. Thibault was brought back to Beauvais between two piles of wood in Mr. Cochet's van.

Mr Cochet refused to go out at night. It was during a transport of two Americans that Doctor Andrieu was taken prisoner on the plateau of Cramoisy. 'André, of Ercuis, and another resistant managed to escape. Doctor Andrieu* was deported to Dachau and did not return.... ".
1
These were Clifford G. GOLKE and Cletus S. HARD, whose aircraft was shot down at Ercuis.
2
The hosts were Mr Henri VIET and his wife who lived in Saint Vaast-les-Mello.
3
Pierrette HENRI (née JACQUES), alias "Mado" in the Resistance.
* Dr. Charles Andrieu was arrested on 8th July 1944. On 18th August 1944, he was deported from Compiegne to the Buchenwald concentration camp and then to Neu-Stassfurt. He died on 21st March 1945.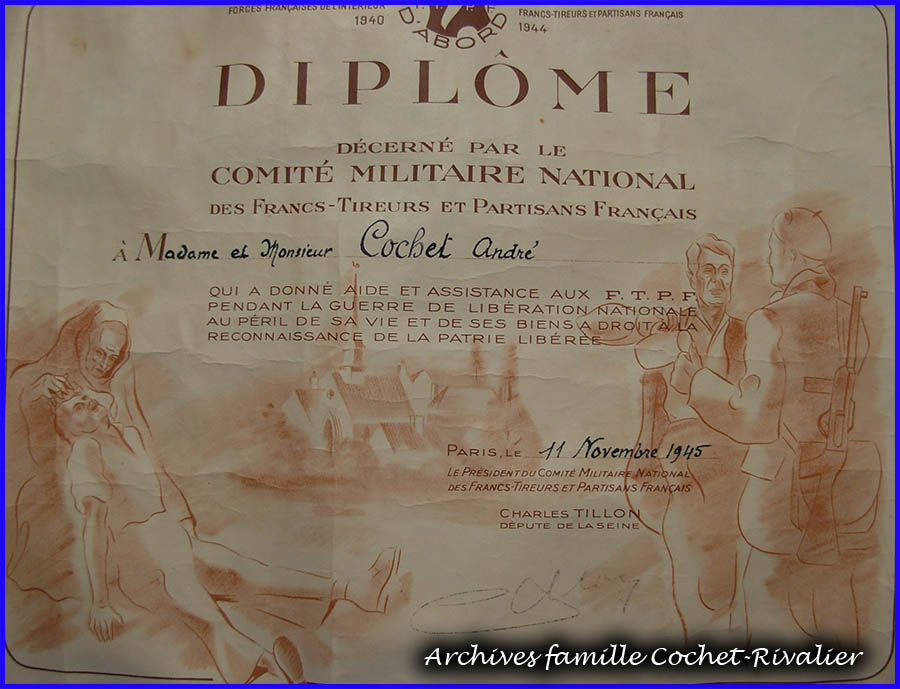 Sources
:
Testimony of : - Mrs Jacqueline SIMON (nee LEFEBVRE)
- Mrs Michèle RIVALIER (nee COCHET)
Fonds local of the multimedia library "Jean MOULIN": works of Mme Paulette FORMAUX
"La guerre 39/45 dans le ciel de l'Oise" by Mr Marcel MAVRE
Documents of the HJELM family, USA
Dr. Edmond CAILLARD
Copyright © 2014

- Association des Sauveteurs d'Aviateurs Alliés -

All rights reserved -



En français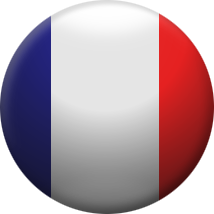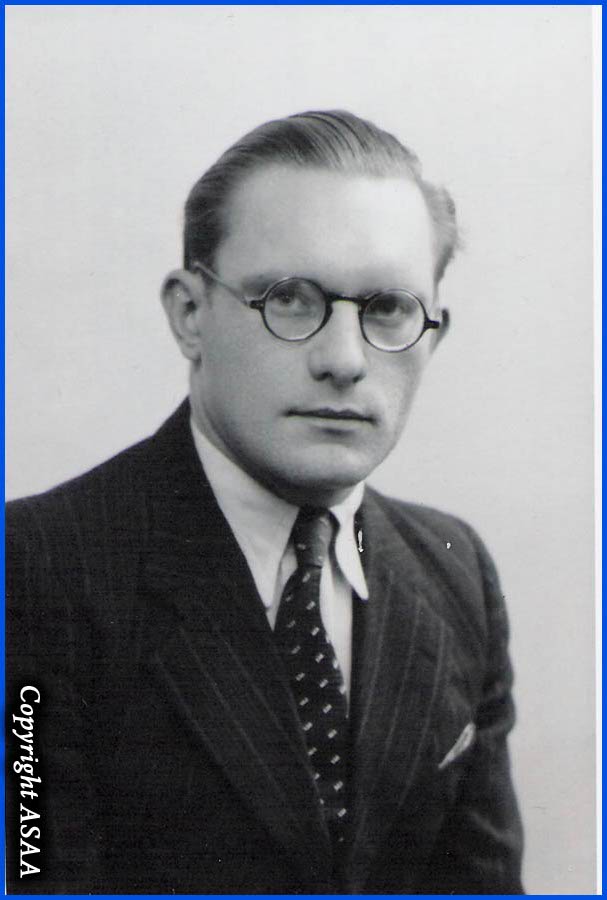 Edmond Caillard was born on 5th April 1912 in Noumea, New Caledonia.
In his teens, he studied at the College La Perouse in Noumea then went to France to continue his studies. After his military service at Toulon in 1934, he entered the Faculty of Medicine.

He graduated in colonial medicine in May 1939.
On 26th August 1939, he was mobilised into the 24th Colonial Infantry Regiment as a doctor.

In April 1940, he married Suzanne Mangeol, a native of Plombières in the Vosges.Four children were born successively in 1941, 1943, 1944 and 1948.
Promoted to lieutenant in May 1940, the regiment participated in the battles of May-June 1940 in the Somme. During the defeat, Edmond Caillard was taken prisoner by the Germans but managed to escape. He was demobilized at the end of August 1940.
His friend, Dr. Lachèze, did not wish to return to the occupied zone and so practiced in Saint Just-en-Chaussée. From 1941, Dr. Edmond Caillard resumed his surgery located in the boulevard Valentin Haüy.
Although a newcomer to the town, his great qualities and dedication as a doctor quickly earned him a large member of patients.
Rapid integration also allowed him to make contact with resistant of the sector who chose to continue the fight clandestinely, such Georges Jauneau, Jean Crouet his colleague Dr. Delignon etc...
From 1943, the bombing raids against the enemy intensified. Many formations of Allied aircraft flew over the area daily, day and night, flying to the Reich. Harassed by German or caught in the fire of anti-aircraft guns, the bombers suffered losses and fell in the region. Many airmen who managed to bale out were collected by the local population.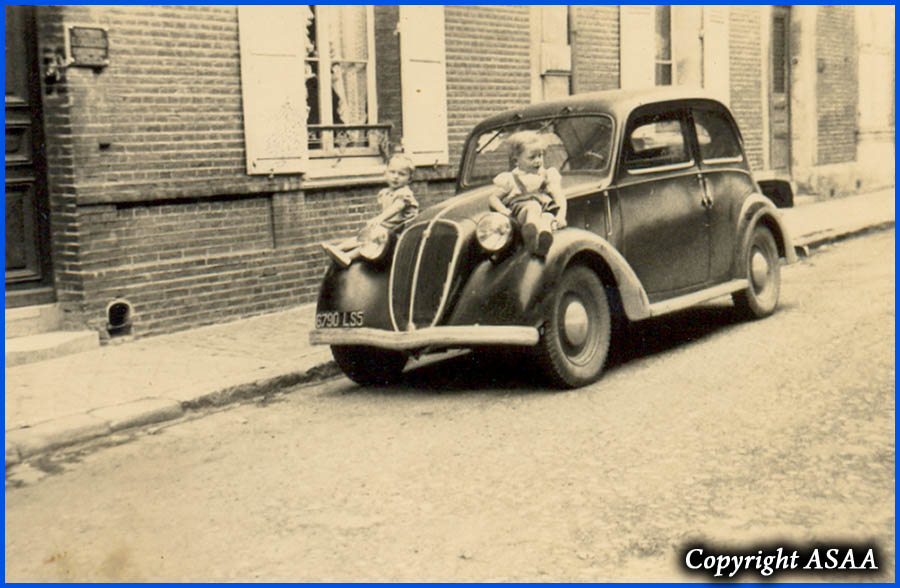 Around Saint Just-en-Chaussée, Dr. Caillard was often asked to come and care for the wounded airmen. Aboard his Simca 8 and with an authorisation to circulate, he scoured the area day and night, carrying and provisionally allocating the airmen to patriots and trusted families until they could reach the organised escape routes. The most seriously injured were taken to hospitals, especially to Creil, arranged by Dr. Debray.
Repeatedly, with the complicity of his wife, he housed airmen, providing them with civilian clothes.
Dr. Caillard was arrested once with an airman in uniform in his car. The Germans were so happy to capture the unfortunate airman that they let Dr. Caillard go free. His status as doctor allowed him to have the chance to get away.
On the night of 27th to 28th August 1944, having departed from the Fairford camp, England, six Franco-Belgian Special Air Service (SAS) commandos parachuted in the area of Saint Just-en-Chaussée. The "Benson" operation, commanded by Captain Kirschen, was intended to inform the SHAEF (Supreme Headquarters of the Allied Expeditionary Force) about the withdrawal of German troops to the Somme and Northern France as well as to pinpoint enemy anti-aircraft batteries. Due to a storm, F/O Davidson, the Australian Stirling pilot, had dropped the six SAS men about 10 km west of the agreed place by mistake. Four were slightly wounded on landing. Near Valescourt they hid in a thicket until the evening of 28th before being led by a resistant worker to a barn at the La Folie farm where they hid in a cellar.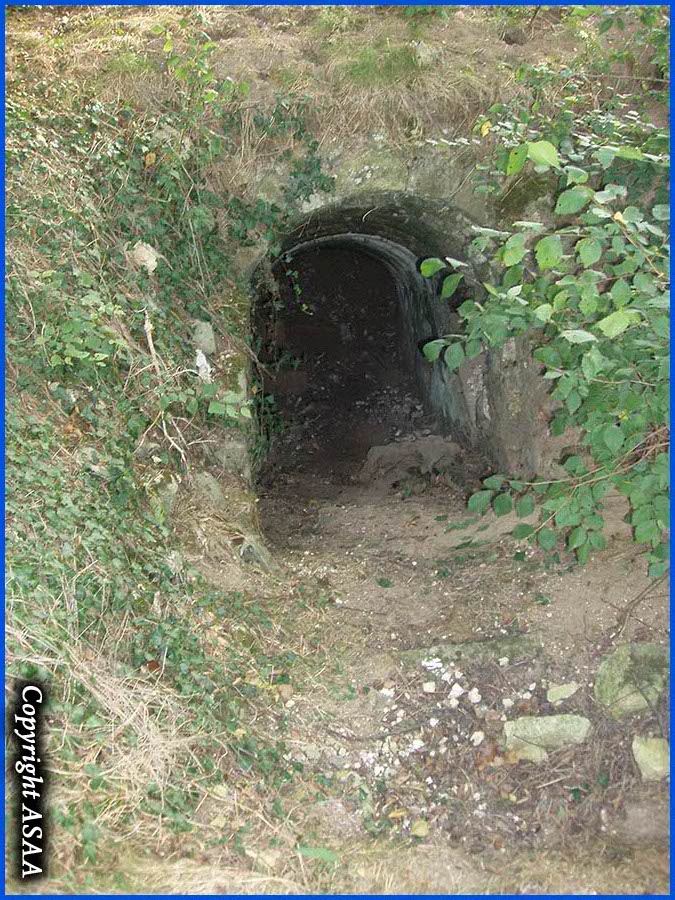 The next day, Dr. Caillard who had been notified, arrived on a motorcycle and treated the wounded. Captain Kirschen explained to him the purpose of their mission. To the surprise of the members of the SAS, the doctor took from his pocket an extraordinary document : a statement of the positions of all German Divisions on the Somme.
The day before, at the intersection of Saint Just-en-Chaussée, Dr. Caillard had observed a German commander who directed military traffic using a map. Thirsty, the commander had entered a cafe and had put his map on a table. Taking advantage of his inattention, Dr. Caillard was able to copy it on a small sheet of paper.
The information of the utmost importance for the continuation of the conflict were passed on the very same day to London by coded message.
On 31st August 1944, the town of Saint Just-en-Chaussée was liberated by the Allied Armies.
Dr. Caillard came to the aid of about 87 Allied airmen, mostly Americans, in the region of Saint-Just-en-Chaussée.
After the Liberation, Dr. Caillard became first deputy to the mayor Dr. Delignon. He held this position from October 1944 to August 1946.
Dr. Caillard on the right
In November 1946, the maritime links being restored, Dr. Caillard and his family decided to return to New Caledonia.
In 1947, at Noumea, he contributed with three other doctors, to the founding of the Anse Vata Polyclinic, installed in the prefabricated buildings of a former hospital built by the Americans during the Pacific War.
He entered politics and was elected to include the Territorial Assembly of New Caledonia from 1957 to 1962. In 1967, he ceased his political activities, continuing his consultations at his office or at the Polyclinic which he continued to administer.
Dr. Caillard had also a passion for astronomy. In the late 50s, he had built an observatory on his own property.
Dr. Edmond Caillard died on 16th June 1991 in Noumea at the age of 79.

Saint Just-en-Chaussée - Boulevard Valentin Haüy - Dr. Caillard's house
In August 2002,
in

New Caledonia

,

a stamp

was

published

in his honour

.
A street was named after him in the town of Mont-Dore (New Caledonia) where he lived.
Dr. Edmond Caillard was awarded many American, British and French decorations :
- Officier de la Légion d'Honneur
- Croix de Guerre 1939-1945
- Médaille de la Résistance
- Croix du Combattant Volontaire de la Résistance
- Medal of Freedom with bronze palm
- King's Medal for Courage in the Cause of Freedom


On the 20

th

June 2015, at Saint Just-en-Chaussée, a tribute was paid to Dr. Edmond Caillard.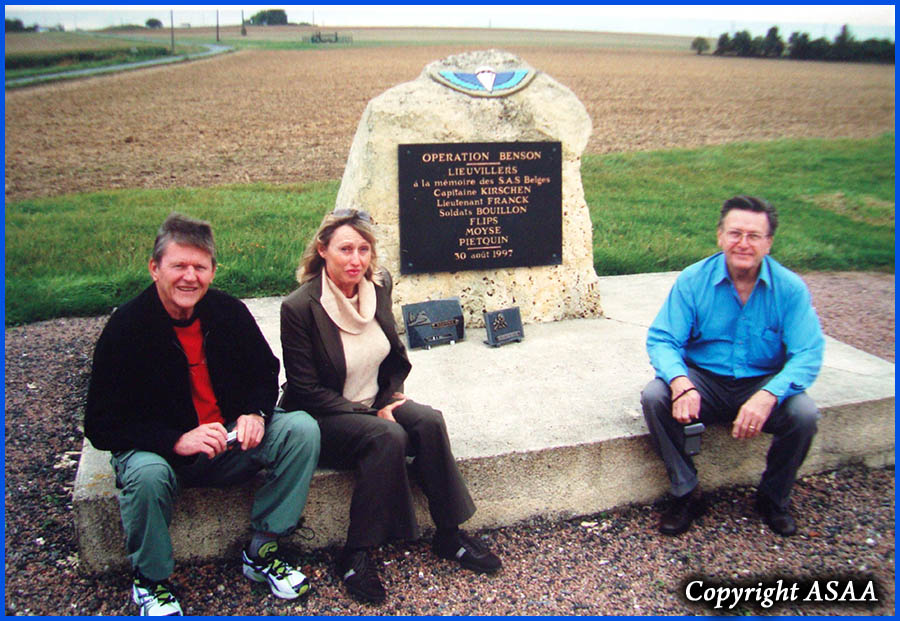 The children of Dr. Caillard in front the "Benson" memorial dedicated on 30 August 1997.
Sources : Dr. Caillard's family
: "Six amis viendront ce soir" de Gilbert-Sadi Kirschen - 1946 (Nicholson & Watson)
Roger FOLLIOT, alias "Titou"
Copyright
© 2017

- Association des Sauveteurs d'Aviateurs Alliés - All rights reserved -
En français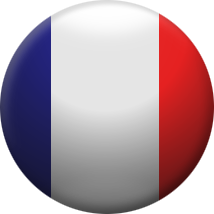 In cooperation with Roger "Titou" Folliot
Roger Folliot was born on 25th November 1925 in Hermes (Oise). His childhood was spent in Senlis.
From 1937 to 1942 he came to study in the Clermont High School where he met Alain Fleury. Immediately there was a great understanding and strong friendship between the two young students. From the outset they had the same rejection of submission to defeat. "Titou" was encouraged in this attitude by his uncle, Captain Raphael Folliot who, in June 1940, took a whole battalion from Lebanon to Palestine under English authority. (Captain Raphael Folliot was condemned to death by the Vichy regime but was one of the first members of the Compagnons de la Liberation).

In 1942, right in the middle of the Occupation, Roger Folliot went to Paris to follow his studies at the Lycee Louis-le-Grand.
In September 1943, when he was still not yet 18 years old he became incorporated at the heart of the Resistance group O.C.M. (Organisation Civile et Militaire) in the Central Oise sector, based in Clermont, commanded by Captain Georges Fleury , alias "Carriere", the father of his friend Alain.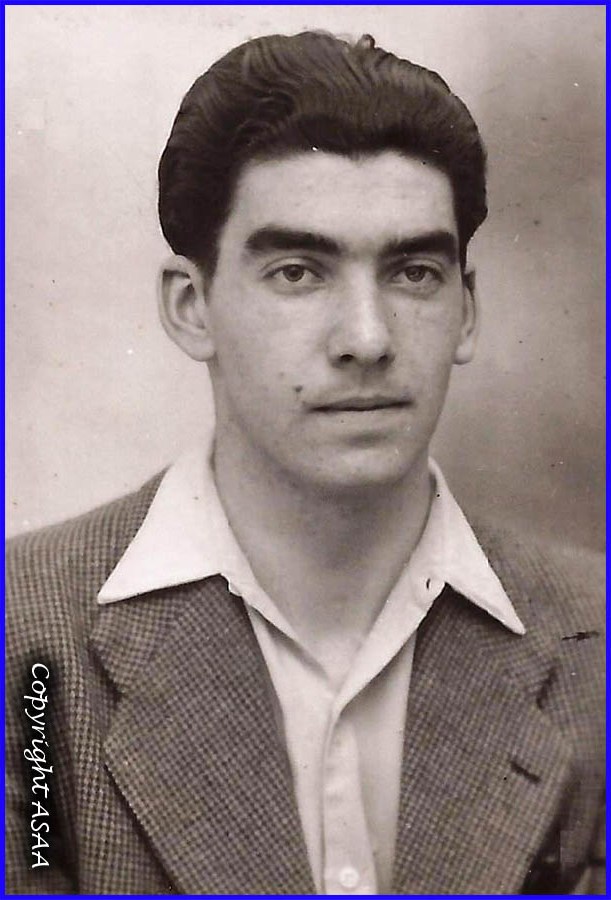 Roger "Titou" Folliot
From then on Roger "Titou" Folliot undertook the missions which were assigned to him, the first of which was to put several Allied airmen shot down in the Saint-Leu-d'Esserent sector. He was notably charged with carrying out regular liaison missions with the Resistance groups of Senlis, Creil and Rochy-Conde, also going sometimes to Paris to ensure contact with groups specialised in evacuating airmen.
In the spring of 1944, "Titou" with the help of his father, Andre Folliot, a Russian speaker, was charged with helping an escaped group of Russian prisoners of war, based in Merard, near Mouy. He equipped them with American arms from a parachute drop.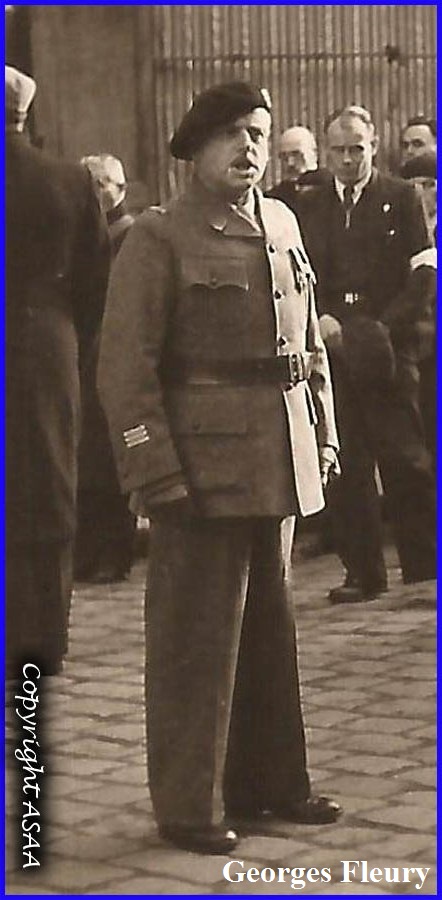 From the month of May until September 1944, "Titou" stayed in the house of the Fleury family in Clermont. He, more and less continuously worked alongside, "Jacky" (Jacky du Pac) of the British Secret Service, Roger Camous, alias "Le Raton", an officer of the Air Intelligence Service and a fairly boastful man, Roger Frotte alias "Breton" chief of the Air Operations Service for Oise. The Air Operations Service, in collusion with B.C.R.A. (Bureau Central de Renseignements et d'Action) set up by the Free French in London, sanctioned and controlled the use of tens of parachute dropping sites proposed for the most part by local Resistance groups.
"Titou" was a member of one of a small commandment group made up around him by Georges Fleury. Along with Alain, they were the personnel liaison agents of Georges.
The liaisons were made up of a fairly large number of people including :
Colonel Fromonot (Monturat), chief of Resistance in the Oise, the Captain de Montalambert of the Rural Engineers, several chiefs of about twenty groups depending on the Centre-Oise Sector of the O.C.M. directed by Georges Fleury, several representatives of other Resistance movements, including the ex-deputy Jean Biondi of the Liberation-Nord and Edouard of the F.N. (Front National).
As an agent of the protection group, "Titou" took part in different parachute drop operations at Fouilleuse, Cernoy and Francieres, making himself responsible for then transporting and hiding as soon as possible the arms and material which had been dropped. He sometimes organised the transport of arms to different groups in the region, even delivering a Sten gun on his bicycle for the Senlis group, directed by Andre Decatoire, who did not have one. He took the radio transmitter of the group from Creil to Cauffry.
He also took part in a Pick up operation involving a Lysander of the Royal Air Force, near to Estrees-Saint-Denis, in the night of the 2nd to 3rd of June 1944.
On the 26th June 1944, whilst he was at his parents' house in Senlis, he went to Eve with Jules Fossiez to pick up an American fighter pilot, 2nd Lieutenant Heyward C. Spinks whose "Mustang" had had to make a forced landing. A little later "Titou" and Alain Fleury found an American airman shot down near Rochy-Conde.
At Clermont on the 6th August 1944, during a raid by the Gestapo and the Milice on the homes of Georges Fleury and his "deputy" Jean Corroyer, this latter was murdered. His wife and his son were deported and did not return. The Fleury "maison" was broken into and somewhat ransacked but no one was found there. In fact the whole family was at Remecourt. They managed to flee and took shelter with their friends, the Doisy. The last one to leave, "Titou", shut up and left the house shortly before nightfall. Here, at least the worst was avoided. "Titou" got back to Senlis.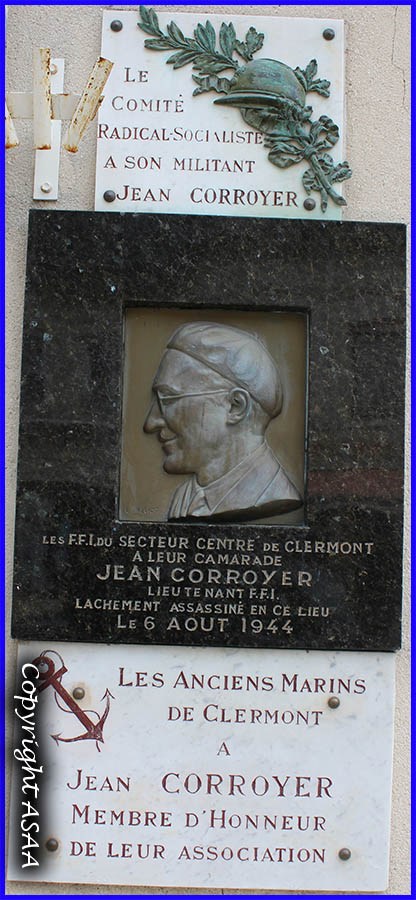 From then on the greatest care had to be taken since the Fleury house was probably under surveillance. However this house held secrets which had to be hidden in a safe place. Roger Folliot took it upon himself to recuperate, in spite of the risks, the important documents. But, "Titou" came up against the solid opposition of a young girl, Eliane (later to be his wife) who had decided that he was too easily spotted. So it was she who, with the help of one of their friends, Jean Lamirand, proceeded to "recuperate" the documents hidden in the Fleury house, which she knew well.
A little later, in August 1944, Georges Fleury, having gone away to the north of the departement, wanted to re-contact the Groups of his Sector. His daughter, France-Raphaelle, got to meet "Titou" at Senlis. She transmitted the orders destined for the chiefs of the Groups. So the operational side of the Centre Sector took place thus, under the control of its chief.
In the last days of August "Titou" met up with Georges Fleury and Alain. With the latter he participated in a last parachute drop. Then the armed groups of the Centre Sector were ready to the North of Clermont. After a set-to with a German artillery battery in the night of 31st August, Georges Fleury sent "Titou" on reconnaissance. After his report, the final march into Clermont was started and then it was the Liberation.
After the war, Roger Folliot took up his studies again at the Sorbonne and obtained a degree in Science. Agrege of the university, he held the post of chief of works in the Faculty of Science of Rennes, in Brittany.
Roger "Titou" Folliot followed an exemplary career in the service of Science (General Biology, Cellular Biology and Genetics).
Doctor of State in Sciences
Professor of the Universities
Associate Professor of the University of Montreal (Canada)
Director of the Research Unit associated with the CNRS "Cellular Biology and Reproduction"
Scientific Counsellor (Biology) of the Management of Higher Teaching and of Research
Member of the National Committee of CNRS
Chief Examiner for the International Baccalaureate (Geneva)
Published scientific works :
(University Press of France): "Cellular Biology" and "Chemical Bases of Cellular Biology"
(European Teaching Pole) "Access to the main concepts of Genetics"
(Unesco) "Higher Studies in the World" in collaboration with Professor de Grandpre (Quebec)
Croix de Guerre 1939-1945 with bronze star
Chevalier de la Legion d'Honneur
Commandeur in the Ordre des Palmes Academiques
Gilbert THIBAULT
Henri MAIGRET
The "Alsace" escape network

Copyright © 2014

- Association des Sauveteurs d'Aviateurs Alliés - All rights reserved -
En français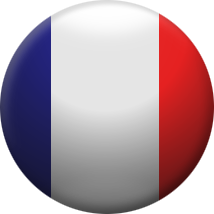 Gilbert Thibault was born on 30th July 1912 in Rouen (Seine-Maritime).
As a teenager, he attended the Lycée Félix Faure in Beauvais during the 1927/1928 school year and then The Institution du Saint-Esprit in 1929/1930.
A graduate with a basic legal qualification and speaking English, he worked from 1930 to 1932, as a solicitor's clerk, for Maître Recullet in Beauvais.

Called up for military service in 1933, Gilbert Thibault was signed up as a soldier 2nd class in the Compagnie du Train-Auto # 2 in Amiens (Somme).
In 1934 and 1935 he was employed as a clerk at the Civil Court of Beauvais.
In 1936, he worked with Maître Patin, a bailiff in Lille, as Principal Clerk.
In October 1937, he returned to the Oise and stood as a bailiff at Auneuil (Oise).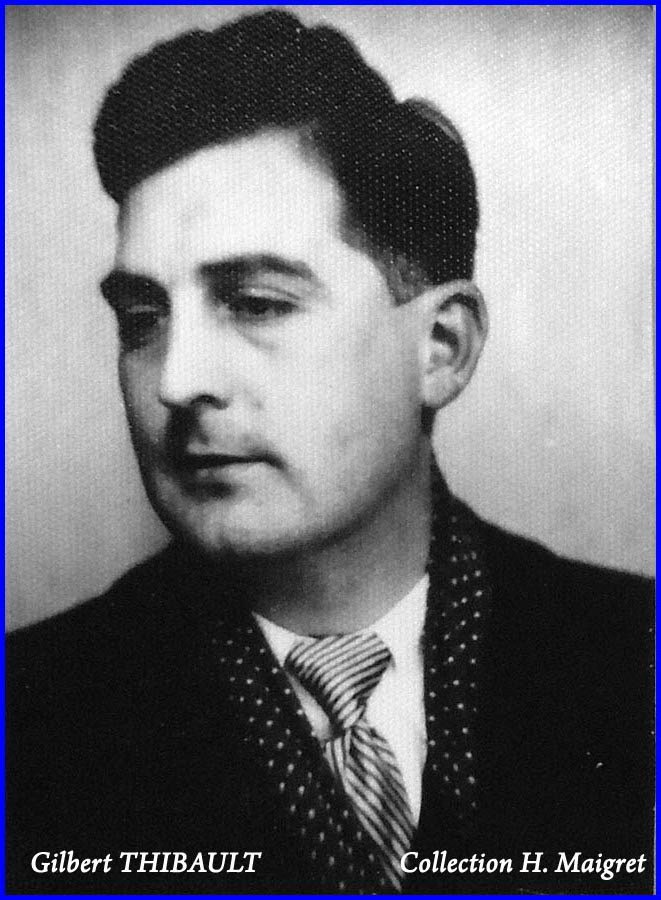 At the declaration of war in 1939, Gilbert Thibault was mobilized as a sub-lieutenant in the General Headquarters of the 352nd Company Train-Auto.

From 10th May 1940 there was the brutal attack by the German Army. On 20th June, his unit was surrounded by the enemy. Thibault was taken prisoner on 26th June. Sent to the Hôtel des Thermes at Bagnoles-de-l'Orne transformed into an Oflag prison camp, he managed to escape on 14th August. He then joined the Régulatrice Routière at Châteauroux.
In February 1941, continuing his active service, Thibault managed to reach North Africa after crossing the Pyrenees. Assigned to the 352nd Company Train-Auto, he was promoted to Lieutenant on 25th September.
One year later, on 25th September 1942, he obtained his transfer to the Cavalry.
He returned to France in October 1942 during a leave at the end of which he tried in vain to return to Spain and Morocco. The Allied Landings in North Africa on 8th November 1942 upset his plans.
A few months later, one of his regimental comrades staying in Cambo-les-Bains informed him that he had found a way to reach North Africa via Spain with the help of a guide named Ruffino.
In March 1943, benefiting from his own experience and wishing to continue the struggle, Gilbert Thibault had the idea of creating the "Alsace" line, an escape route permitting soldiers, officers and other young people to join the Free French Forces via Spain. He hoped to finally take advantage of this himself.
Thanks to contacts made in Paris with Hélène Julien, Yvonne Delplanche Odette Leguillier and André Bureau, his cousin, the line began to operate.
In August 1943, working for the OCM and particularly with Charles Verni whose role was to finance and provide false papers for the escapees, Gilbert Thibault met "Andre" codenamed "A-6", a representative of the Intelligence Service sent from Madrid.
Then "A-6" proposed that he stay in France and concentrate all his efforts on the "Alsace" line and pass through it Allied airmen as well as any information that could serve the Allied cause. Thibault accepted.
No money was available for the operation of the line, so Thibault turned to the Anglo-Saxon authorities who granted him unlimited credit.
Differences quickly arose between Charles Verni and "A-6". Verni then asked Thibault to cease all contact with "A-6" under the threat of being deleted cut off from any resource from the OCM.

Thibault refused, considering himself under the control of the authorities of Madrid.

He sent Odette Leguillier to Spain, with the task of obtaining funds and of establishing relays until Madrid. She managed the mission but got arrested. Repressed in Spain, she managed to reach Morocco.
Although deprived of money by Verni, Thibault remained convinced of the action he should take.
Under the pseudonym of "Zéphyrin" he set up at Auneuil an escape route to collect, check, lodge, feed, clothe, provide false papers and to convey the airmen. He relied for this on a web of ramifications with sector heads of the department of Oise. Lacking financial means and without effective relays leading to the Spanish border, Thibault directed his evaders to the Francois-Shelburn and Comet lines.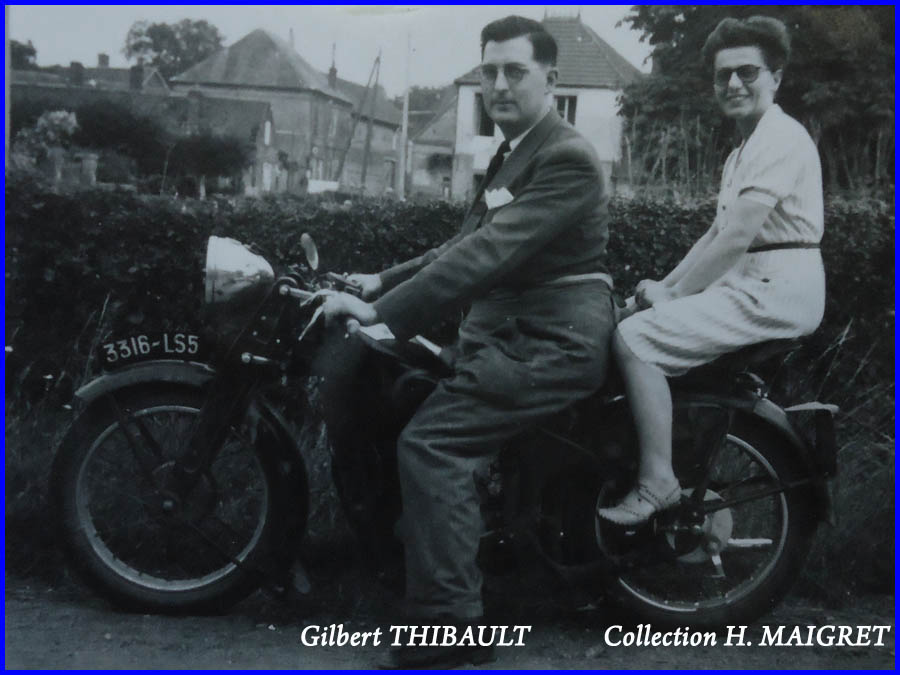 In 1942, at the request of the Third Reich, the Compulsory Work Service (STO) was established by the Vichy government. From February 1943, all young Frenchmen born in 1920, 1921 and 1922 were forcibly recruited, under threat of sanctions, to go and work in Germany. The "refractories" hid and went underground, joining the ranks of the Resistance or the Maquis.
In November 1943, Henri Maigret, a young teacher aged 20 practicing in Blacourt, also tried to escape the STO. He asked Gilbert Thibault if he could take advantage of the escape line with his friend Robert Fontaine. Both had the intention of reaching North Africa and of rallying to the Free French Forces. In the previous September, Henri Maigret had met for the first time Gilbert Thibault whilst evacuating two U.S. airmen parachuted over Blacourt (August Winters and Douglas G. Wright) whom he had personally helped. From this time, many airmen began to fall from the sky. The department of Oise was right under the route taken by Allied bombers who went or returned from missions over Germany.
For three months, waves of arrests multiplied in Paris. It was impossible for Maigret and Fontaine to depart. To their great despair they just had to wait.
At last their departure was finally set for 17th February 1944. That day, in Paris, Henri Maigret and Robert Fontaine had an appointment with Gilbert Thibault in the metro station Notre-Dame- de-Lorette. But Thibault did not appear at the time and place agreed.

After a long wait, Maigret then remembered an address and decided to go there, his friend Fontaine remaining near the metro station, still hoping that Gilbert Thibault would arrive. Reaching 12 rue de Clichy, Maigret climbed the stairs and knocked in vain at the door of an apartment. Back at the bottom of the building, the concierge, uncomfortable, made him understand that he must not stay.

The day before, on 16th February, in the same building in the rue de Clichy, Gilbert Thibault had narrowly escaped a tense trap by the Gestapo. Miraculously, he managed to escape by running down the stairs under fire from a German policeman. A bullet had hit him and fractured his right little finger.

Henri Maigret realized later, how lucky he was not to have fallen into the trap, simply because it was the wrong staircase and the wrong apartment.

Not going straight back to Auneuil, knowing that he was wanted and hunted, Thibault was forced to remain in the shadows.

Following this narrow escape, the dreams of Maigret and Fontaine of getting to North Africa, collapsed (Fontaine managed to gets there later).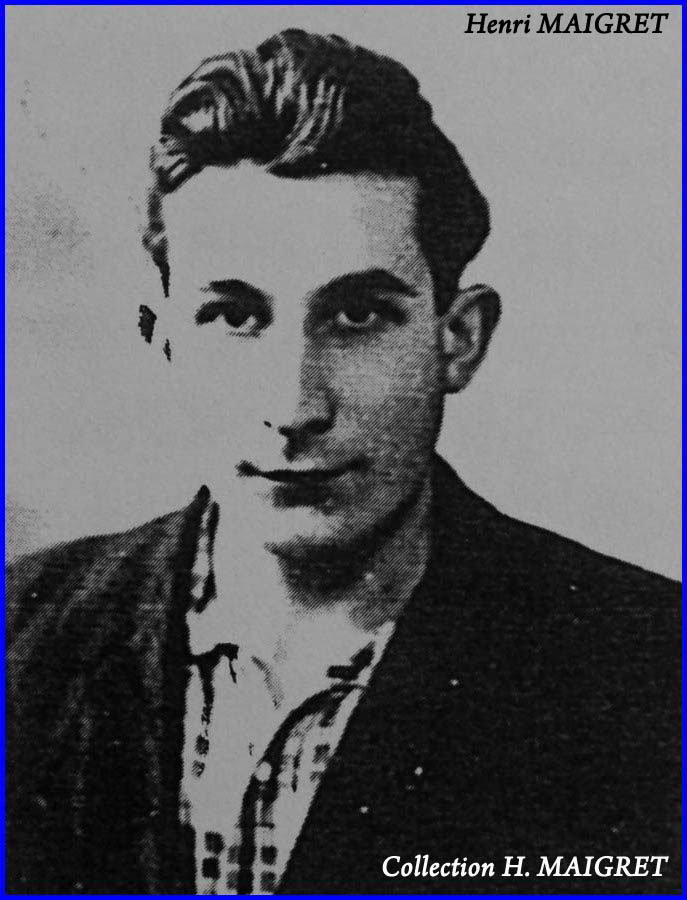 "Zéphyrin" then proposed that Henri Maigret go underground and become his assistant in providing links and escorts. Maigret changed his identity and became "Albert Wuillance", an "insurance broker". "Albert" soon earned him the nickname "Bébert."
Wearing his leather jacket, riding his Gnome-et-Rhone motorbike and risking his life at every moment, he travelled all over the country visiting the Allied airmen awaiting departure. Scattered in different places of lodging, he was responsible for supplying them with cigarettes and providing them with false identities.
Usually, the airmen were conducted in small groups to Paris, either by car or by bus. From February 1944 with a growing number airmen to evacuate, Thibault organized their transfer by train from Chaumont-en-Vexin, Beauvais or Rochy-Condé stations. The journey to Paris often took place in the middle of German soldiers. Sometimes airmen were also given to guides from Paris. Then taken in charge by the Shelburn escape line, staying a few hours or a few days in Paris, most of the escapees were conveyed to Brittany. At Plouha they embarked during organized operations on dark nights, aboard a corvette of the Royal Navy bound for England.
In May, two other groups of escapers were taken to the Saint-Ouen and Pontoise stations. It was decided to avoid Paris. Another time, a group was led to the hospice of Argenteuil. From this time, the airmen were sent to the camp in the Fréteval forest near Châteaudun. The Landings becoming imminent, the Allies bombed the lines of communication and paralysed the railway network. There was no question of taking risks in conveying airmen through France.
In the Oise, from August, having not been evacuated after two months, the numbers of airmen with lodgers in the region, built up. Gilbert Thibault then thought of building a rudimentary camp in a very dense wood difficult to access belonging to Mrs. Ravel, near the village of Porcheux, south of Beauvais.
Awaiting the imminent arrival of Allied troops, about twenty airmen were housed in rudimentary huts with metal sheet roofs covered with greenery. They slept on straw, being supplied and fed by farmers in the area.
On 30th August 1944, the arrival of a British Armoured column liberated the sector, putting to an end four years of occupation and the activity of the "Alsace" network.
The "Alsace" network allowed the escape of about 120 Allied airmen, most downed in the department of Oise. Some others coming from neighbouring departments and trying to move towards the hub that was Paris, were able to benefit from the help of the network.
Despite arrests, mainly in Paris, the "Alsace" network continued to operate until the Liberation.
The Allied governments recognized after the war the important role played by the "Alsace" network in the evacuation of Allied airmen. Many British and American awards were presented to Gilbert Thibault, Henry Maigret and to the members of the network.
A few days after the Liberation, Gilbert Thibault left Auneuil and asked to return to service in the Army as a Cavalry Lieutenant. He then joined the Atlantic front until the end of hostilities.
In February 1953 Gilbert Thibault was directed to Indochina where he commanded a transportation Company. He particularly distinguished in January 1954 managing to transport three battalions under the enemy fire. For his action he was awarded the TOE War Cross with Silver Star.
Gilbert Thibault died on 14th May 1955 in Paris. His funeral took place at Val-de-Grâce in Paris.
In December 1944, Henri Maigret joined the French Army. He served in Morocco and then in Germany. Demobilized in March 1946, he resumed his work as a teacher in the area of Beauvais. Little attracted by the honours, he rarely attended the commemorations. In 1962, he left for teaching in cooperation with Morocco and in Algeria until 1976. Back in France, he finished his teaching career at Istres.

Many years after the war, he also had the satisfaction of corresponding and meeting on many occasions British, American and Australian airmen, who had come back to the region to personally thank their rescuers.
Retired, it was in 1977 that he decided to no longer forget the actions of the "Alsace" network. He brought together documents and collected evidence, together with the memoirs of those who were alongside him in 1943/1944.

His book, " Un réseau d'évasion dans l'Oise à Auneuil" was published in 1994.
Henri Maigret died in October 2007.
The name of the "Alsace" network is engraved on the granite stele overlooking Bonaparte Beach in Plouha, Brittany, perpetuating the memory of the escape line created by Gilbert Thibault.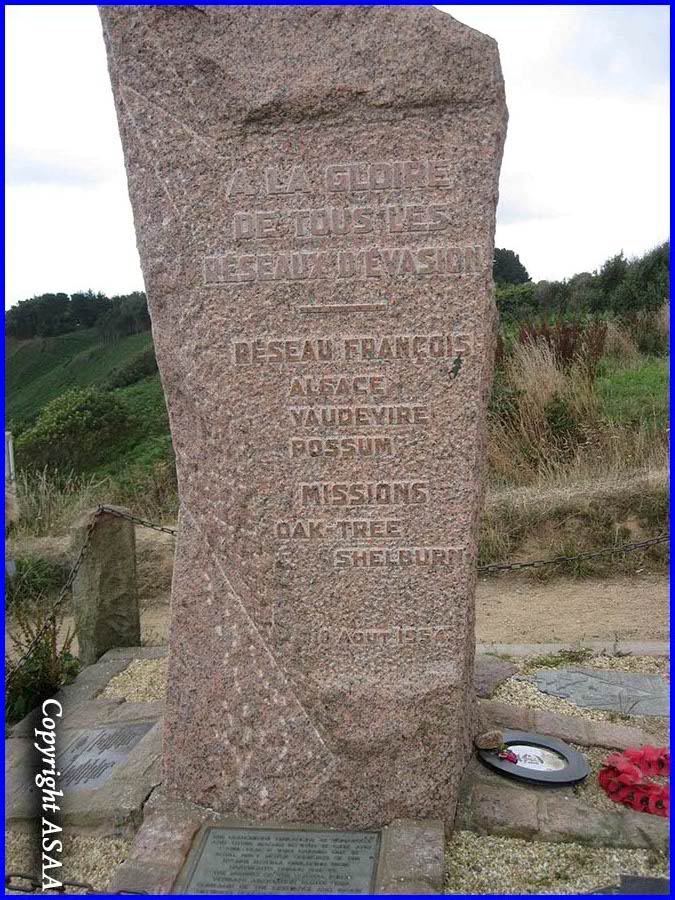 Sources : U.S. National Archives