April-July 2009
Looking for and finding the Hawker Typhoon Mk IB No. JR 523
Copyright © 2014 Association des Sauveteurs d'Aviateurs Alliés - All rights reserved -
En français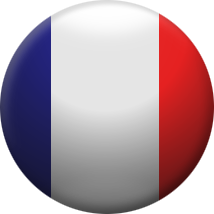 The existence of the remains of the wreck of the Hawker Typhoon has been known in the village of Sacy-le-Grand ever since its crash on 3rd January 1944. One of the locals, Mr. Charles Doré, had actually been there at the time of the crash of the aircraft in the marshes.
An official document of 18th September 1946 by F/O A.N. Perks of the n° 1 Missing, Research and Enquiry Unit of the RAF also brought us additional information on the place of the crash as well as the type of aircraft that crashed that day.
It is with these valuable pieces of evidence that we have determined an area of research that was on a private property near the hamlet of Ladrancourt on the territory of the municipality of Sacy-le-Grand.
With the agreement of the owner and in his presence we began on 11th April 2009 a first visual search on the site. This initial search was successful thanks to information provided by Mr. Anthony Pitois. Indeed, he had stumbled on a "piece of iron" emerging from the swamps during a recent wild boar hunt.
Very quickly, parts of the plane were found on the ground, covered by vegetation or summarily buried underground.
These first elements showed that the wreck had been dismantled at an undetermined time and a large part of the plane was no longer present on the site.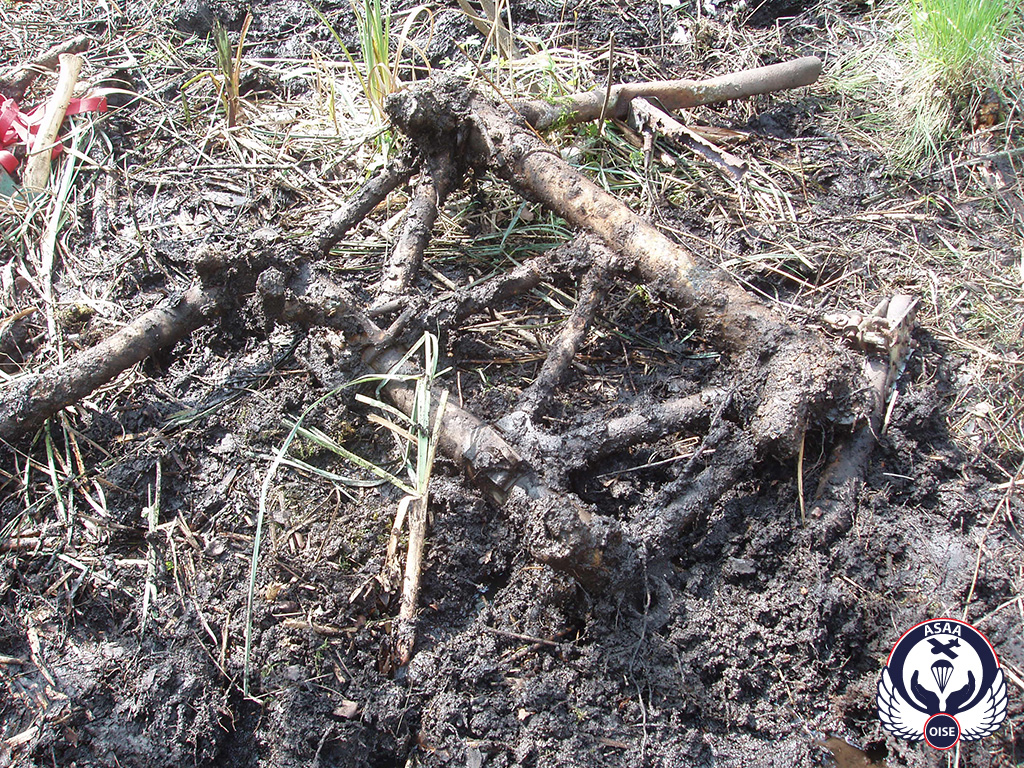 However, further searching around proved fruitful. A few metres further on we found an engine just jutting out from the water. This engine with characteristic features was a Napier Sabre powering the Hawker Typhoon. Despite its prolonged stay in the swamp it was in a remarkable state of preservation.
To successfully pull out such a mass stuck in the peat we put a traction device in place using winches and thanks to the technical assistance of Mr. Sylvain Chedeville this manoeuvre was successful on 11th May 2009.
After releasing it, the engine was positioned on a more stable area of the marsh.
The bulk of the work of extraction having been being carried out it now remained to prepare a way of getting the engine out of this swamp. The solution was to build a "sled" so that the engine did not sink into the peat during the various traction manoeuvres. This sled, capable of supporting the weight of the engine was built by Mr. Sylvain Chedeville.
On 16th July 2009 the Napier Sabre engine of the Hawker Typhoon No. JR 523 finally left the swamp of Sacy-le-Grand where it had stayed since 3rd January 1944.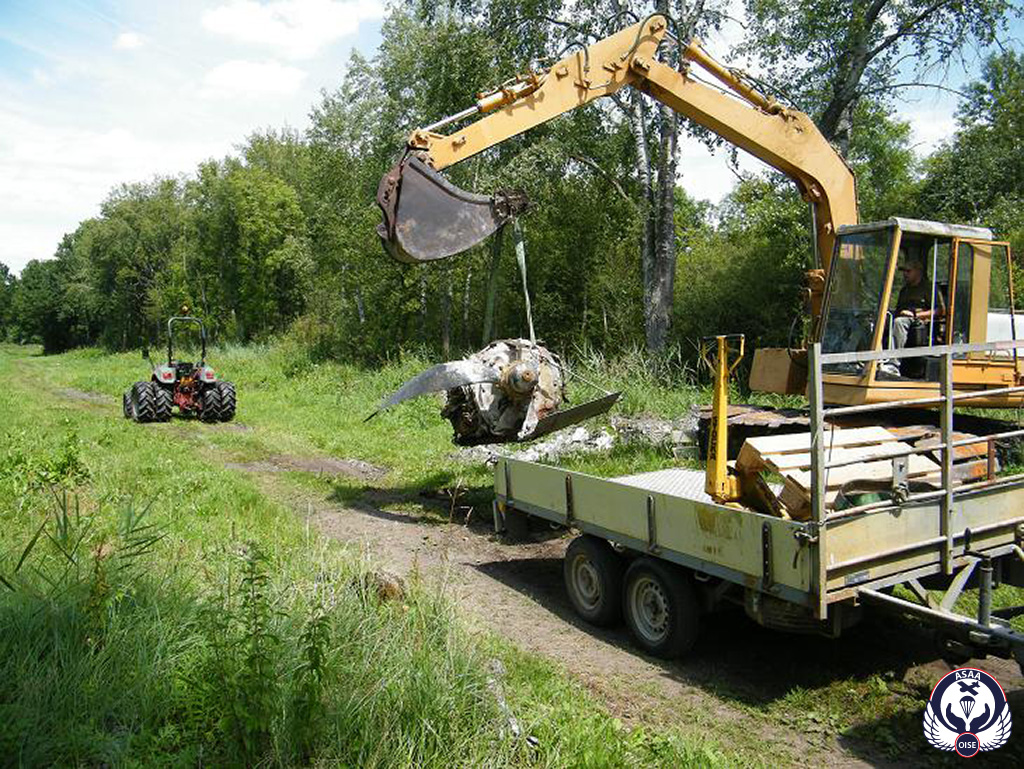 It was stored in a dry place in order to start cleaning and preparation.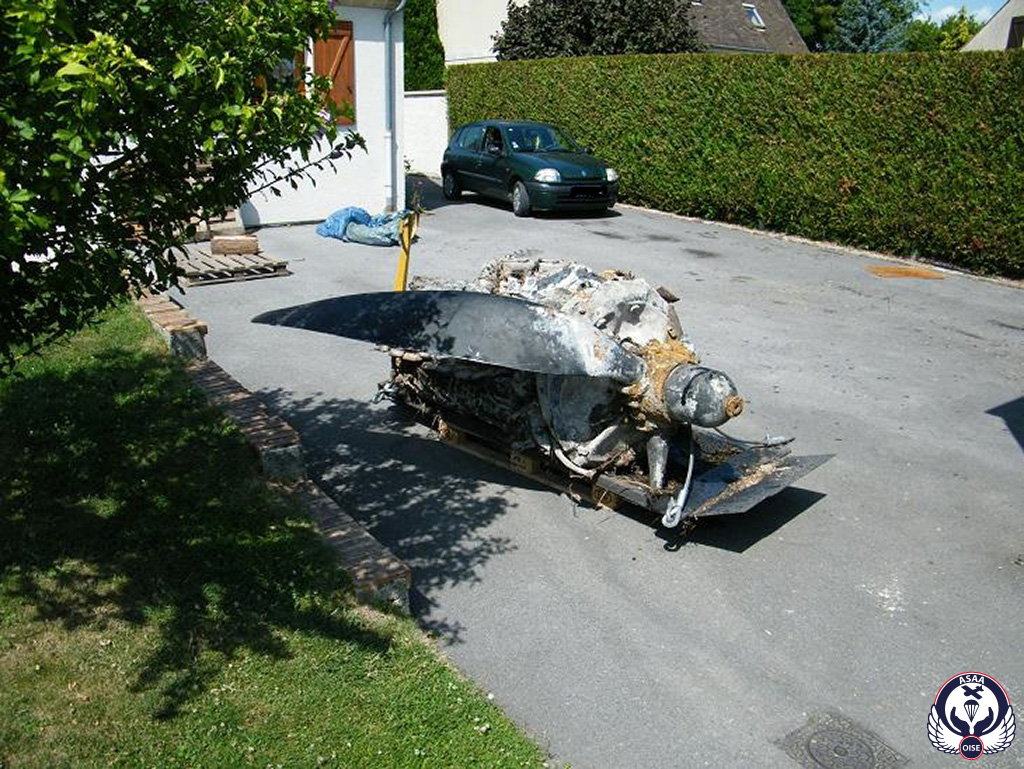 At this point there began a new adventure for the whole team because it was decided to create a memorial in honour of F/O Henry Hector MacKenzie with the engine of his plane.
See the ceremony in the presence of the MacKenzie family at Sacy-le-Grand in June 2011
See Flying Officer Henry Hector MacKenzie