Help given to Allied airmen

in Saint-Leu-d'Esserent (Oise)

during the Second World War
Copyright
© 2017

- Association des Sauveteurs d'Aviateurs Alliés - All rights reserved -
En français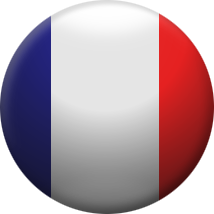 By Jean Philippe Matthieu
During the Second World War, inhabitants of Saint-Leu-d'Esserent brought help to American airmen at the risk of their lives. This help could be "organized" such as that which benefited :
- S/Sgt. Clifford G. Golke and Sgt. Cletus S. Hard, crew members of the Flying Fortress "Lucky Strike", 95th Bomb Group, 334th Bomb Squadron, shot down on 10th April 1944 near Ercuis (Oise).
- 1st Lt. Rex P. Hjelm, pilot of a P-38 "Lightning", 55th Fighter Group, 343rd Fighter Squadron, shot down on 11th June 1944 near Bailleul-le-Soc (Oise).
- 2nd Lt. Edward I. Peterson (co-pilot of the Flying Fortress "Ensign Mary", 379th Bomb Group, 526th Bomb Squadron, shot down on 16th June 1944 near Pontpoint (Oise), who was taken out of Senlis by René Charpentier.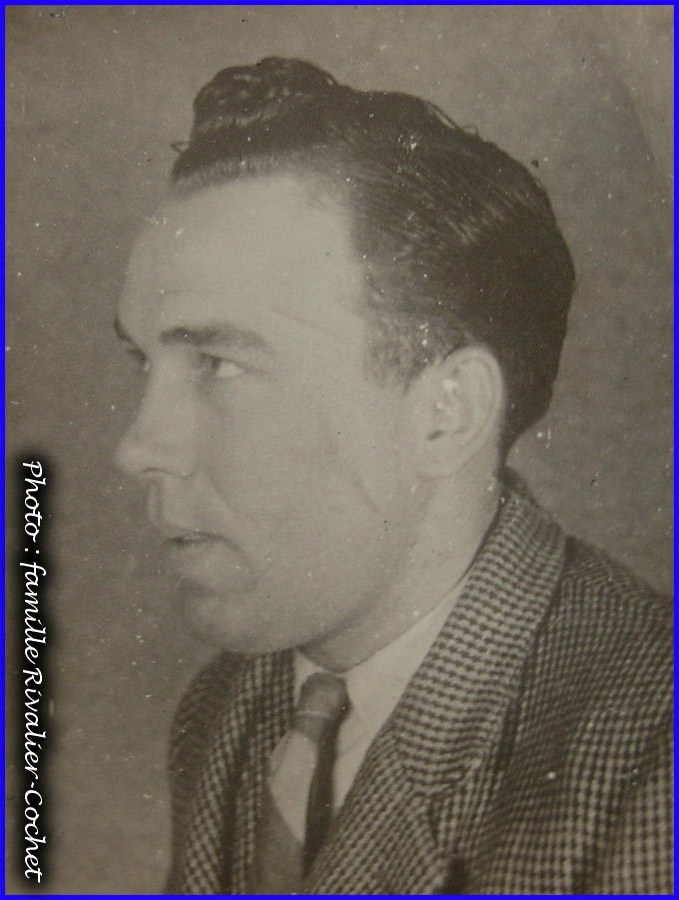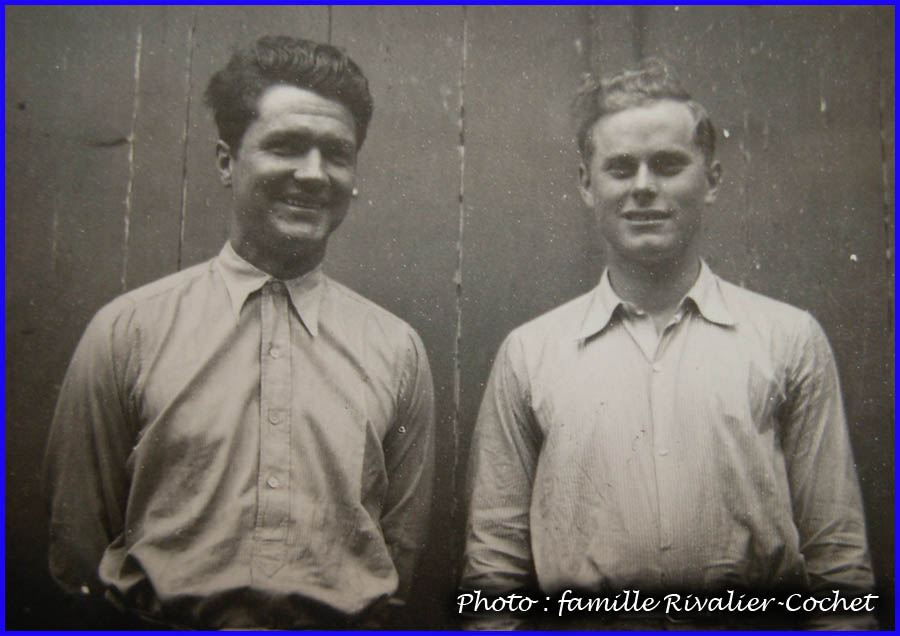 Sgt. Cletus S. HARD 1st Lt. Rex P. HJELM and 2nd Lt. Edward I. PETERSON
He stayed in Saint-Leu-d'Esserent in the company
of S/Sgt. Clifford G.GOLKE in May 1944.
Each airman had a set of three identity photos,
dressed in civilian clothes which made it easier
The assistance was based on Mr. André Cochet who was responsible for transport and who brought back real false identity cards from the Prefecture of Beauvais. These were filled in at Saint-Leu-d'Esserent by Mr Lucien Baudoin, secretary of the town hall. Supplies were provided by Mrs. Marcelle Cochet and Mrs. Charlotte Bachimont (after the Liberation, she was the first woman counsellor of Saint-Leu and then mayor in May 1946). Accommodation was provided by Alice and Marcelle Barbier, who were sisters.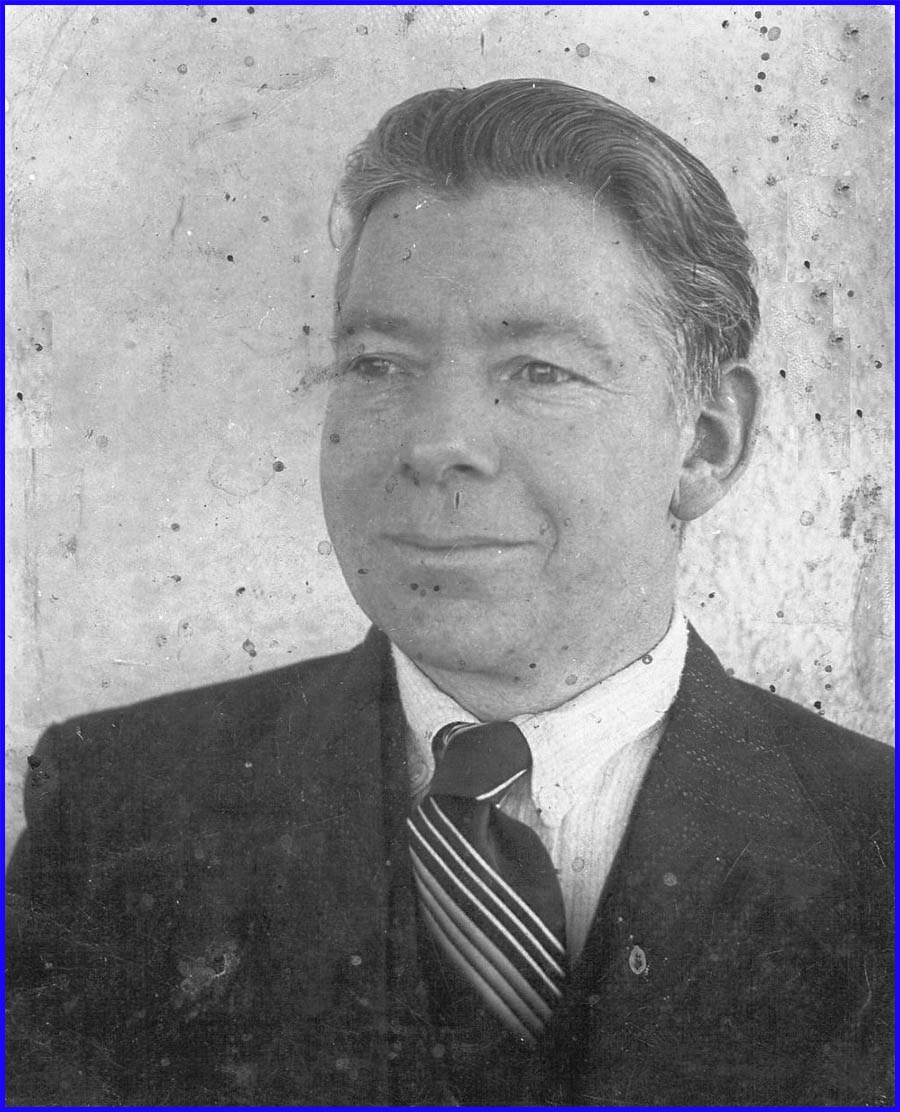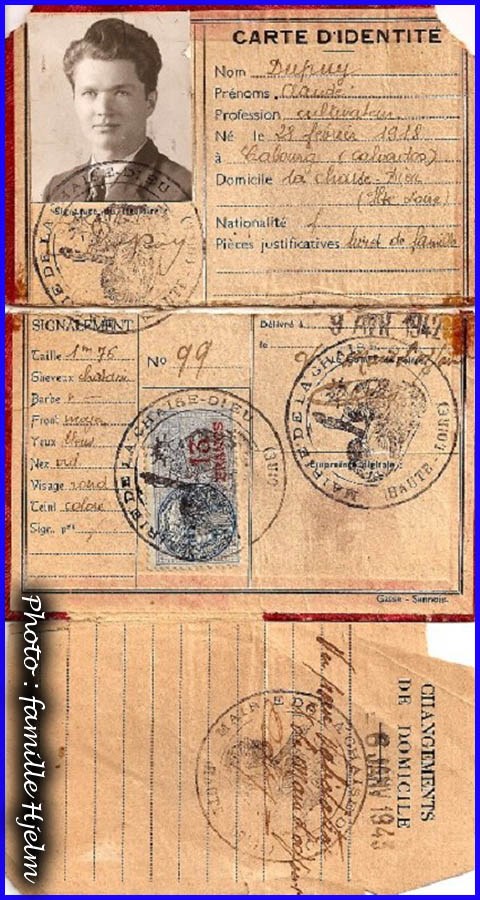 Mr Lucien BAUDOIN False identity card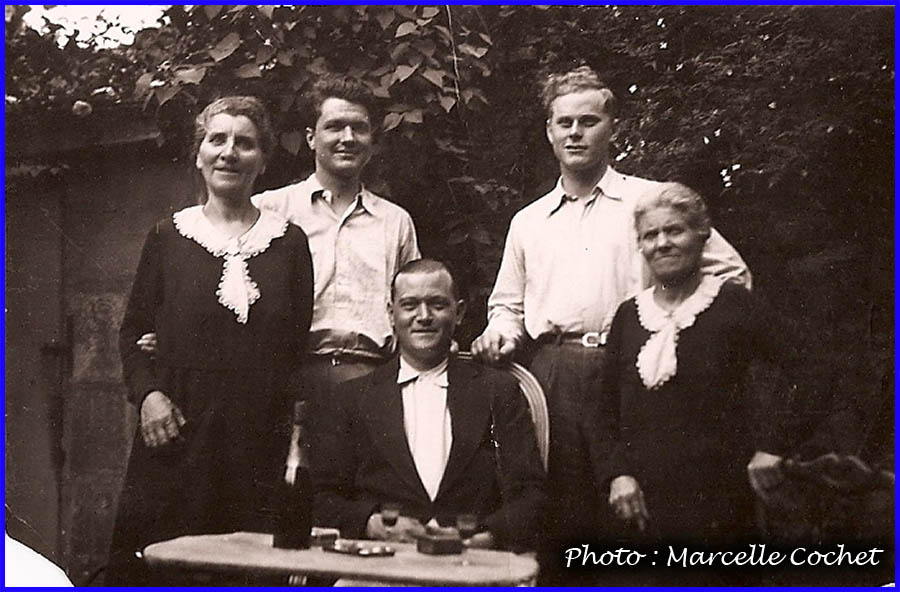 Early July 1944 - Photo taken in the garden of the BARBIER sisters in St-Leu-d'Esserent. (Town hall Square).
From left to right : Marcelle BARBIER, Rex P. HJELM, André COCHET, Edward I. PETERSON and Alice BARBIER.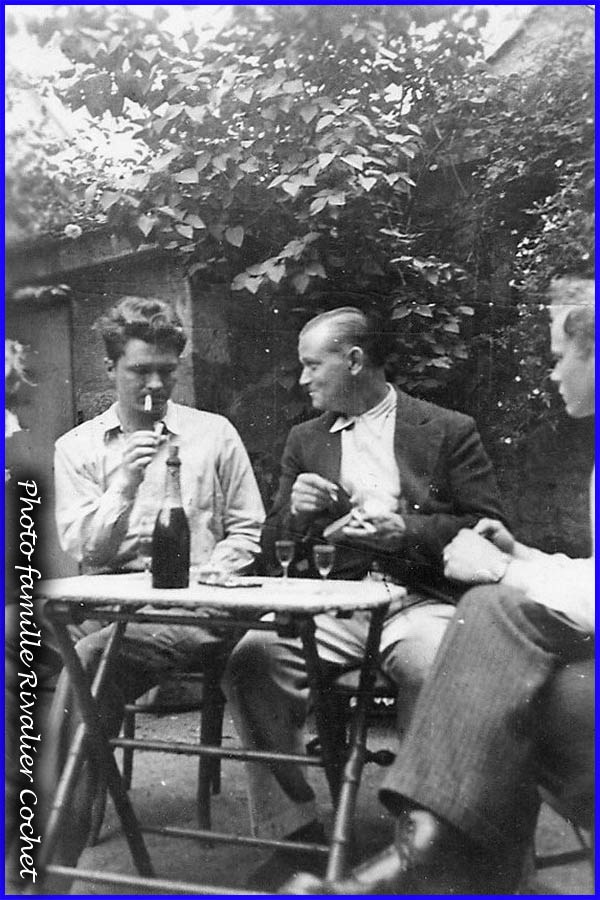 Rex P. HJELM, Andre COCHET and Edward I. PETERSON.
Photo taken with the family "Kodak" camera, by Mrs. Marcelle COCHET.
Sheer luck allowed other inhabitants of Saint-Leu-d'Esserent to bring "spontaneous" help to Allied airmen as was the case for Mr. and Mrs. Henri Lefebvre. Whilst looking for morelle mushrooms they found a parachutist in the woods, hid his parachute (which was later recovered and used to make clothes) and then contacted the priest Chretien who took this unknown airman in charge. Madame Jacqueline Simon, their daughter, a seamstress, re-worked a suit belonging to her husband in order to offer this airman a civilian attire.
These facts are not exhaustive. During this period, other similar cases certainly took place without it being known.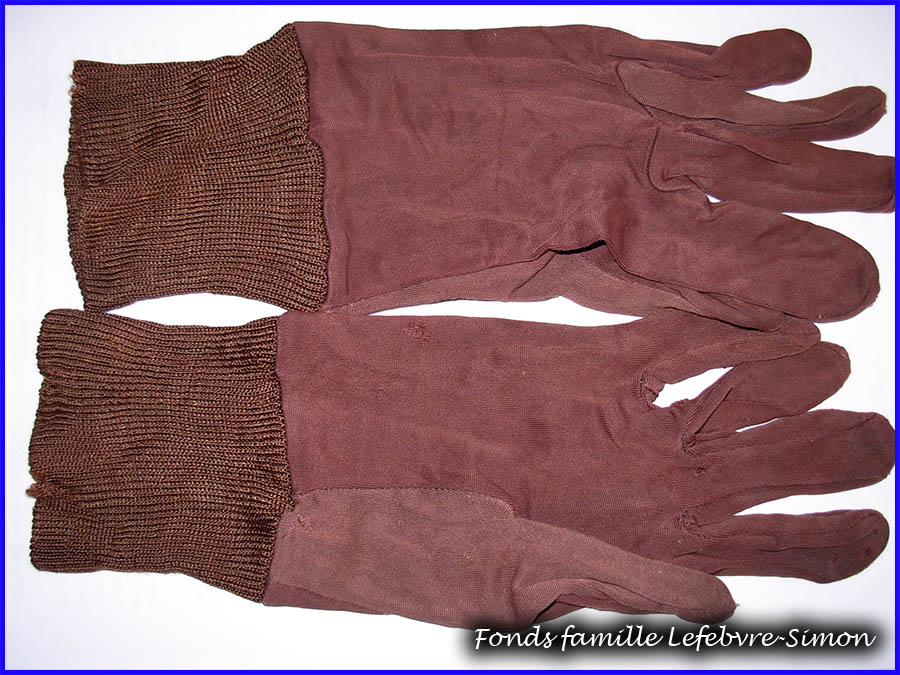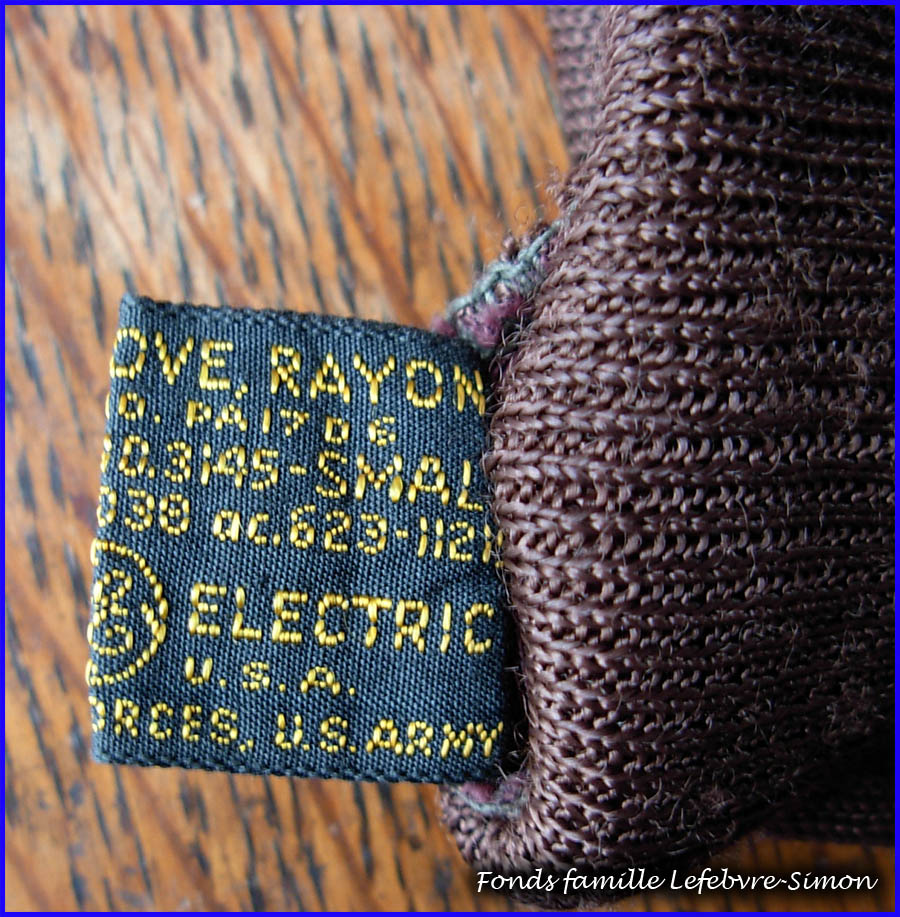 Pair of sub-gloves offered by an unknown American airman to Mr. and Mrs. Henri LEFEBVRE to thank them for their help.
Testimony of Mrs Marcelle Cochet received by Mrs Paulette Formaux in May 1986 :
"Mr. Cochet held an 'Ausweis' which allowed him to circulate for supplies, Marcel Coene and Mr Boulanger, two Resistance officials, came to ask him to take two American airmen to Neuilly-en-Thelle1. The hosts had been denounced2. They were taken to a quarry at Maysel and then taken back to Melle Barbier in Saint-Leu-d'Esserent.
Mr. and Mrs. Cochet, just as Mrs. Bachimont provided food.
The sister of 'Pierro'3 (Roland Jacques of Saint Vaast-les-Mello) took the Americans to the 'Terrain des Aigles'in Chantilly. Then the departure continued by the train to Spain.
Mr. Picot, Controller of the Direct Contributions of Chantilly, arranged the departures.
Mr. Cochet brought back identification cards from the Prefecture and Mr. Baudoin, Secretary of the Town Hall, filled them in.
On one of his trips to Beauvais, he was given the task of warning the notary of Auneuil (Gilbert Thibault), who was threatened by a denunciation. M. Thibault was brought back to Beauvais between two piles of wood in Mr. Cochet's van.

Mr Cochet refused to go out at night. It was during a transport of two Americans that Doctor Andrieu was taken prisoner on the plateau of Cramoisy. 'André, of Ercuis, and another resistant managed to escape. Doctor Andrieu* was deported to Dachau and did not return.... ".
1
These were Clifford G. GOLKE and Cletus S. HARD, whose aircraft was shot down at Ercuis.
2
The hosts were Mr Henri VIET and his wife who lived in Saint Vaast-les-Mello.
3
Pierrette HENRI (née JACQUES), alias "Mado" in the Resistance.
* Dr. Charles Andrieu was arrested on 8th July 1944. On 18th August 1944, he was deported from Compiegne to the Buchenwald concentration camp and then to Neu-Stassfurt. He died on 21st March 1945.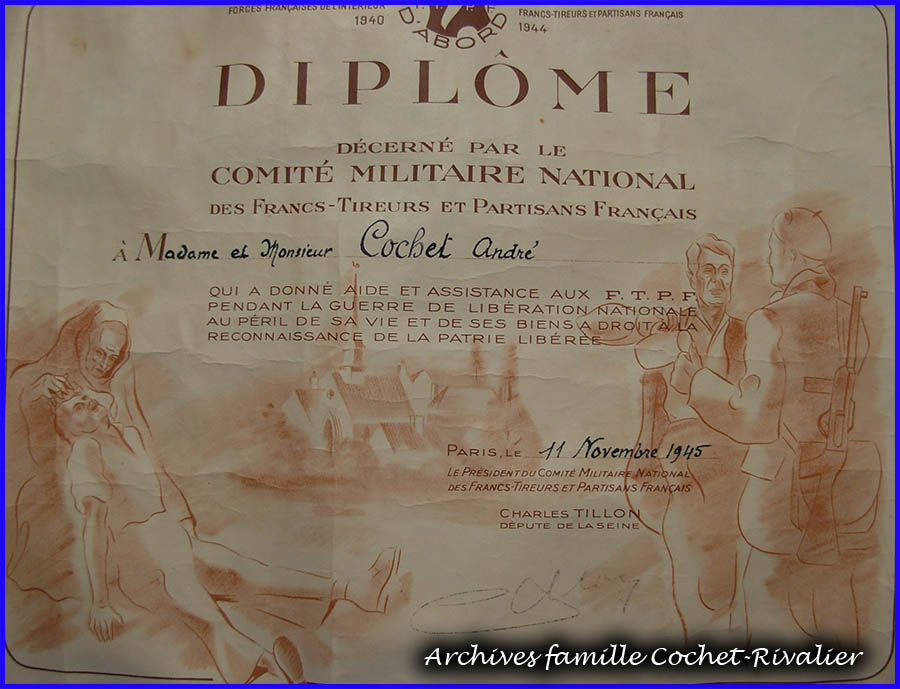 Sources
:
Testimony of : - Mrs Jacqueline SIMON (nee LEFEBVRE)
- Mrs Michèle RIVALIER (nee COCHET)
Fonds local of the multimedia library "Jean MOULIN": works of Mme Paulette FORMAUX
"La guerre 39/45 dans le ciel de l'Oise" by Mr Marcel MAVRE
Documents of the HJELM family, USA