17th/18th June 1944
Lancaster Mk I HK-559
115 Squadron - Royal Air Force
GANNES (Oise)
Copyright © 2014 - Association des Sauveteurs d'Aviateurs Alliés - All rights reserved -
En français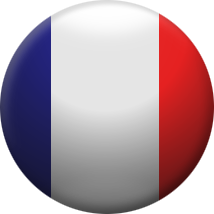 On the night of 17th to 18th June 1944, 196 Lancasters from different Squadrons of the Royal Air Force took off from their English bases with a mission to bomb rail facilities in Aulnoye, Saint Martin-l'Hortier and Montdidier.
Participating in the attack, 115 Squadron, based at Witchford, Cambridgeshire, sent 14 four-engined aircraft which took off at 1:00 am. The target for 115 Squadron was Montdidier station.
The crew of the Lancaster Mk I - HK-559 :
| | | | | |
| --- | --- | --- | --- | --- |
| P/O John Alan TRAILL | RAAF | Pilot | 21 | KIA |
| Sgt Douglas Albert DAWSON | RAF | Flight Engineer | 22 | KIA |
| F/S Ian Harrison SMITH | RAAF | Navigator | 21 | KIA |
| F/S John William VAN COOTEN | RAAF | Bomb aimer | 22 | KIA |
| W/O Peter DUFF | RAF | Wireless operator | 34 | KIA |
| Sgt Ernest Edwin STAPLEY | RAF | Mid upper gunner | 35 | KIA |
| Sgt Kenneth Edgar LAXTON | RAF | Rear gunner | 20 | KIA |
P/O John Alain TRAILL Sgt. Douglas Albert DAWSON F/S Ian Harrison SMITH F/S John William VAN COOTEN
Burwood, New South Wales Ossett, Yorkshire Bondi, New South Wales Brisbane, Queensland
Australia England Australia Australia
W/O Peter DUFF Sgt. Ernest Edwin STAPLEY Sgt. Kenneth Edgar LAXTON
Dundee, Scotland London, England Birmingham, England

Approaching the town, the weather was bad and the wind was strong. The target, obscured by clouds, was invisible. Bombing was impossible. German anti-aircraft defence joined the action.
The Lancaster HK-559, severely hit, quickly became unmanageable. The heavy four-engined aircraft burst into flames, still carrying its payload of bombs. Inexorably losing altitude, it spiralled over the village of Gannes, giving the seven crew members no chance to evacuate the aircraft. Around 2:00 am, it struck the ground, having torn the roof off a house near the small station of Gannes. The aircraft exploded and all seven airmen perished.
Miraculously, that night, nobody was inside the house usually occupied by a family evacuated from Le Havre because of the bombing.
The Lancaster HK-559 was the only one of the 14 aircraft of 115 Squadron not to return from this mission.
At daybreak, it was a frightful spectacle for the villagers. The wreckage was strewn over a wide area and it quickly became clear that none of the members of the crew had survived this tragedy.
The funeral of the airmen was held on Wednesday 21st June in the church of Gannes and a large crowd gathered to pay tribute to the seven occupants of the aircraft.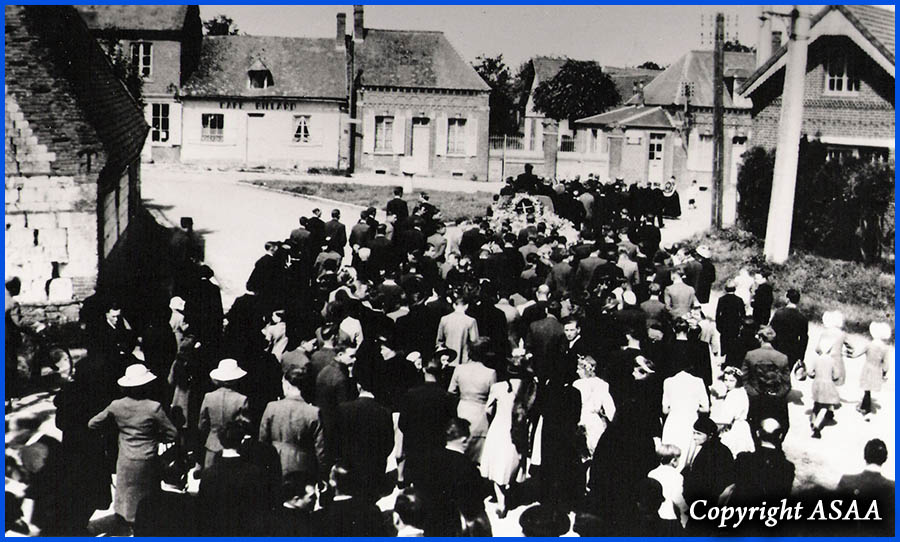 Coming out of the church, the funeral procession takes the direction of the cemetery.
The bodies of the airmen were then buried in the cemetery alongside French soldiers killed in June 1940. They rest there today.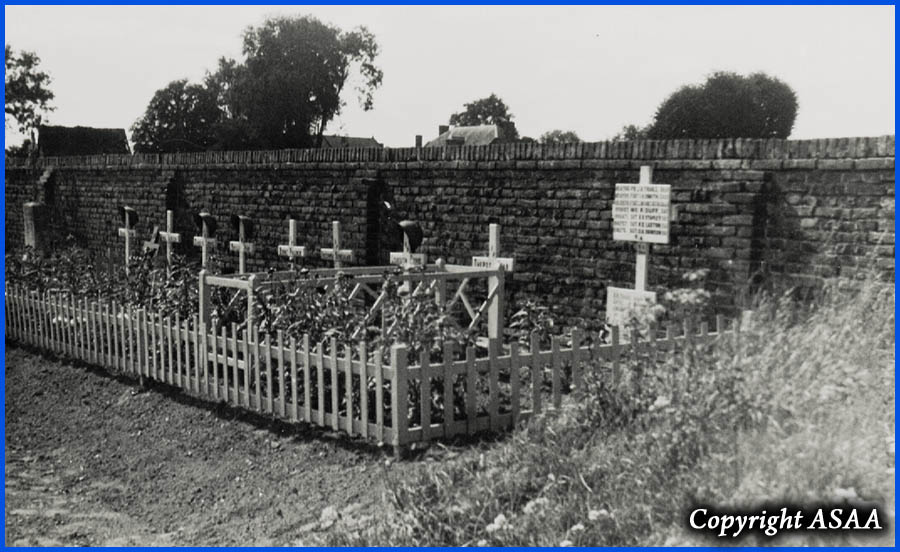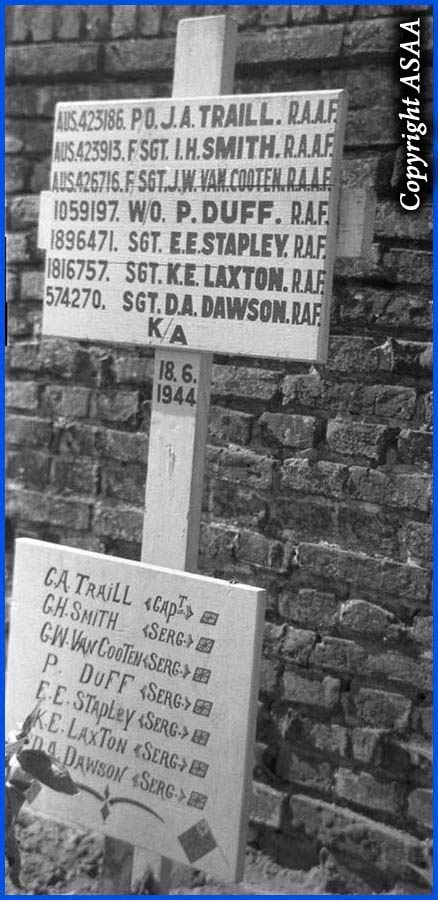 Gannes Cemetery – The graves in 1948
The study by Ian Duff, nephew of the wireless operator, on this tragic event in Gannes.
On 21st June 2009 a ceremony was held at Gannes in memory of the crew.
21st June 2014 : ceremony commemorating the 70th anniversary of the crash.