1
st
Lt. Milton V. SHEVCHIK
92nd Bomb Group
326th Bomb Squadron
8th Air Force
Catheux (Oise)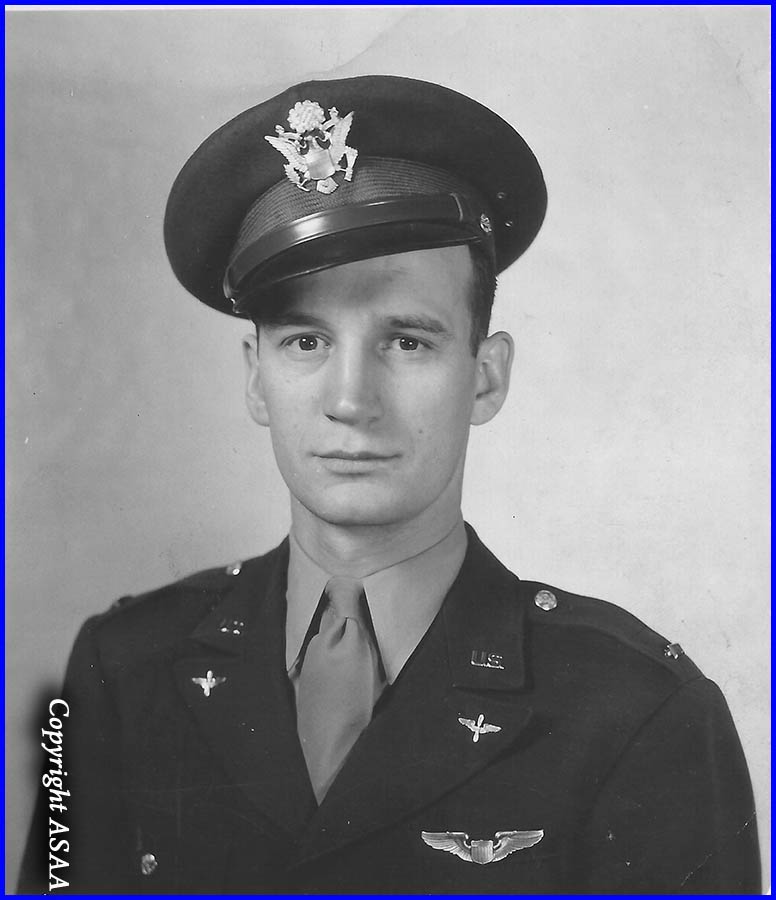 1st Lt. Milton V. Shevchik, a native of Ambridge, Pennsylvania, was the pilot of a "Flying Fortress" B-17 belonging to the 92nd Bomb Group, 326th Bomb Squadron, based at Podington, England. He was 25 years old.
On 8th February 1944, during a mission over Frankfurt, the aircraft was forced to turn back before reaching the target and was attacked over Oise by German fighters. The order was given to evacuate the stricken aircraft. Nine crew members were rescued. One was taken prisoner.
The aircraft finally crashed on the borough of Catheux (Oise).
On this day 1

st

Lt. Milton V. Shevchik was flying his 16

th

mission.
B-17 # 42-37984 : the crew

:
1

st

Lt. Milton V. SHEVCHIK

Pilot

25

Evaded

Ambridge, Pennsylvania

2

nd

Lt. James M. THORSON

Co-pilot

26

Evaded

Braceville, Illinois

2

nd

Lt. James E. WILLIAMS

Navigator

22

Evaded

Jasper, Alabama

2

nd

Lt. Donald J. PERIOLAT

Bombardier

25

POW

Chicago, Illinois

S/Sgt. Everett L. STUMP

Top turret gunner

22

Evaded

Huntington, West Virginia

S/Sgt. Robert E. SIDDERS

Radio-operator

23

Evaded

Hastings, Nebraska

Sgt. Carlyle A. VAN SELUS

Ball turret gunner

21

Evaded

Portage, Wisconsin

Sgt. Francis C. WALL

Right waist gunner

21

Evaded

Coal Hill, Arkansas

S/Sgt. William J. SCANLON

Left waist gunner

23

Evaded

Chicago, Illinois

Sgt. Francis F. HIGGINS

Tail gunner

20

Evaded

Bangor, Maine
All the airmen were to reach England, first rescued by the people of our region, before being handed over to organised escape routes. Some of the escapees passed through Spain, others via Brittany.
Surprisingly, another Flying Fortress of the same Bomb Group crashed a few minutes later on that same borough. The fate of the crew was different. Five airmen perished, four escaped and one was taken prisoner.
B-17 # 42-31387 : the crew

:
1

st

Lt. Warren E. McMURRAY

Pilot

26


KIA

Dorchester, Massachusetts

2

nd

Lt. Clayton F. FITZGERALD

Co-pilot

24

KIA

Minneapolis, Minnesota

2

nd

Lt. William A. HOFFMAN

Navigator

25

Evaded

Alexandria, Virginia

2

nd

Lt. Sidney SCHEIMAN

Bombardier

KIA

Chicago, Illinois

S/Sgt. George P. BUCKNER

Top turret gunner

22

Evaded

Cleveland, Ohio

S/Sgt. Harold H. BARNETT

Radio-operator

POW

Kansas City, Missouri

Sgt. Leburn W. MERRITT

Ball turret gunner

23

KIA

Dearborn, Michigan

Sgt. Robert A. HERBER

Right waist gunner

21

KIA

Albuquerque, New Mexico

Sgt. David WARNER

Left waist gunner

22

Evaded

Waltham, Massachusetts

Sgt. Marion KNIGHT

Tail gunner

21

Evaded

Runge, Texas

After this 8

th

February 1944, 13 airmen were hidden in the surrounding villages, in the face of the biggest of risks, by the local population.
1st Lt. Shevchik landed by parachute near the village of Domeliers where he was hidden overnight, rescued by, among others, Father François Leclainche.
He was then lodged in Crèvecoeur-le-Grand in the Bourgois family from 9th to 18th of February.
From February 18th to 23rd he stayed in Beauvais, hidden by the Vifquain family, then from 23rd February to 16th March, by the Revert family.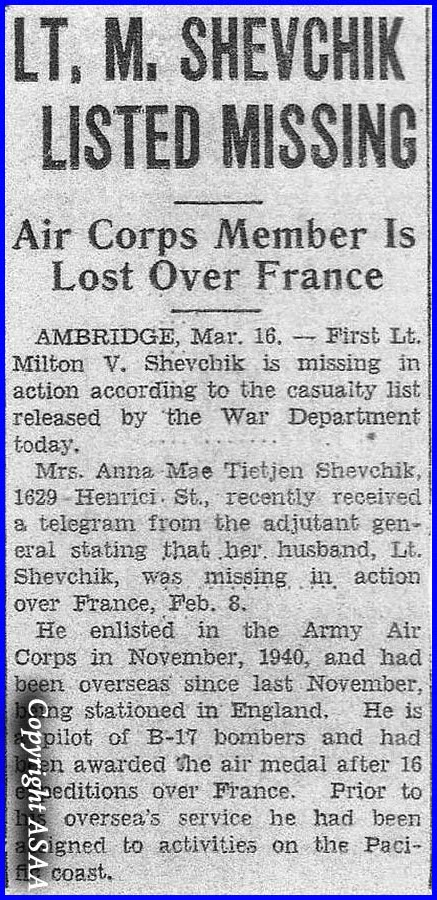 During this time, in Pennsylvania....
On 16

th

March 1944,

Gilbert Thibault

, head of the "Alsace" network accompanied by another man, arrived at the home of Lucien Revert in Beauvais and took Lts. Shevchik and Thorson in a truck, crossing unhindered en route a German checkpoint. They arrived at Clermont, at the home of Mr Georges Fleury, where two American airmen, S/Sgt Helsel and Bernier, had already been staying for 12 days.
The escapees were again visited by Jacky du Pac whom Lts. Shevchik and Thorson had met in Beauvais and who had interviewed them individually.
The family Fleury kept them until 18th March, when the airmen were conveyed to Paris by Jacky du Pac.
Lt. Shevchik was supported upon arrival at the Gare du Nord by René Loiseau and Marguerite Di Giacomo. He was now taken in charge by the Shelburn escape network.

In this day of 18th March 1944, a group of airmen reached Paris and were then taken to Levallois. Lt. Shevchik stayed for one night in a hotel near the metro station Anatole France before staying in the rue Baudin the next day. His photograph was taken to be used to make false identity papers for the next transfer.
On the evening of 20

th

March, René Loiseau took him to the Gare Montparnasse, where he met other airmen who were departing. Entrusted to a guide, the escapees took a compartment in night train.
In the morning of 21

st

March, the airmen arrived in Brittany.
1st Lt. Shevchik was housed in Guingamp and then in Plouha. Along with 25 other airmen, he sailed to England aboard a corvette of the Royal Navy during the night of 23rd to 24th March 1944. He thus benefited from one of the famous "Bonaparte" operations which allowed the repatriation to England of some 135 Allied airmen.
When he returned to the United States, Lt. Shevchik never piloted a plane and worked as a carpenter.
Milton V. Shevchik died on 8th December 1999, aged 81.
In May 2013, Lt. Shevchik's sons made a trip to the region in memory of their father.