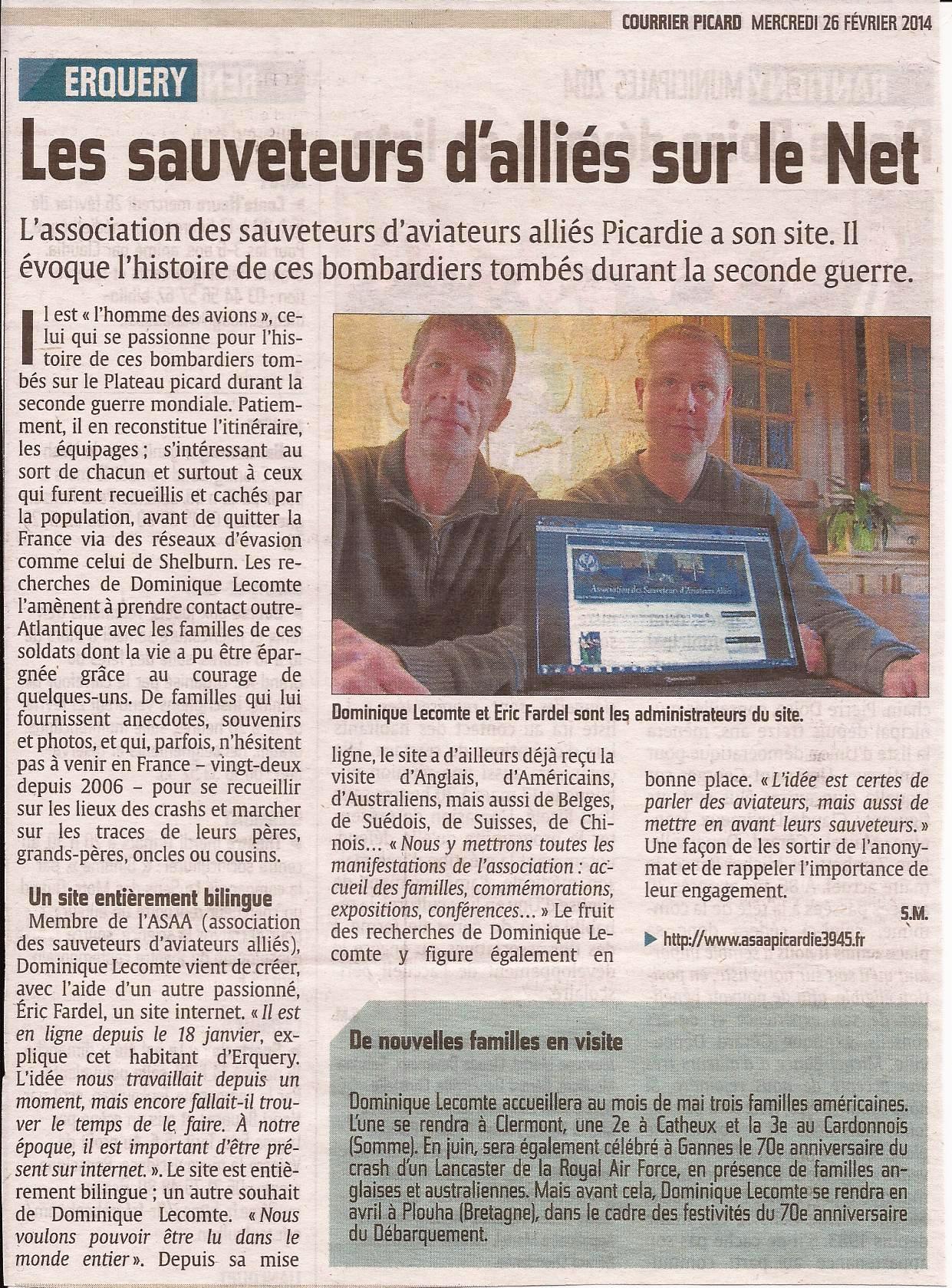 Rescuers of The Allies on the net.
The Picardy Association of Rescuers of Allied Airmen has its own website. It tells the story of these airmen whose bombers were shot down during the Second World War.
He is "the aircraft man", who is passionate about the stories of these bombers which were shot down on the Picardy plateau during the Second World War. He patiently reconstructs the routes taken by these aircrews, and is interested in the fate of each one, and especially those who were rescued and hidden by the population, before leaving France by escape networks such as the "Shelburn" line. Dominique Lecomte's research has led him to make contact with the families of these airmen whose lives were saved thanks to the courage of individuals. These families give him stories, souvenirs and photos, and they sometimes have no hesitation in coming to France - 22 since 2006 - to gather at the crash sites and to walk in the footsteps of their fathers, grandfathers, uncles or cousins.

A completely bilingual site
A member of the ASAA (Association of Rescuers of Allied Airmen) Dominique Lecomte has just created, along with another enthusiast, Eric Fardel, an internet site. "It has been on line since the 18th January," explains this inhabitant of Erquery. "We have had the idea for some time, but it was a question of finding time to do it. These days it is important to be on the internet." The site is completely bilingual, which was another requisite for Dominique Lecomte. "We want to be able to be read throughout the entire world". Since being on line the site has already been visited by not only English, American and Australians but also by Belgians, Swedish, Swiss, Chinese... "We publish on the site all the events of the Association such as meetings of families, commemorations, exhibitions and conferences". The research of Dominique Lecomte is at the heart of it all. "The idea is certainly to talk about the airmen, but also to bring their rescuers to prominence." This is a way of bringing them out of anonymity and to remember the vital importance of their actions.
S.M.
http//www.asaapicardie3945.fr

Yet other families visit
Dominique Lecomte will welcome three more American families in the month of May. One is coming to Clermont, a second to Catheux, and a third to Le Cardonnois (Somme). In June, the 70th anniversary of the crash at Gannes of a Lancaster of the Royal Air Force will be remembered in the presence of English and Australian families. But before that, Dominique Lecomte is going to Plouha (Brittany) as part of the festivities for the 70th anniversary of the Landings. (70th anniversary of the Bonaparte operations)